Uniform
We do encourage our children to wear school uniform. The uniform looks very smart and promotes a whole school identity. It also makes all children equal and avoids any competition to have the latest sport or fashion clothing. We particularly appreciate parents' support in ensuring the older children wear school uniform as this is when a lot of clothing related problems are inclined to arise. Our uniform consists of:
royal blue sweatshirt, jumper, cardigan or fleece jacket
white polo shirt, blouse or shirt
grey or black skirt, pinafore or trousers.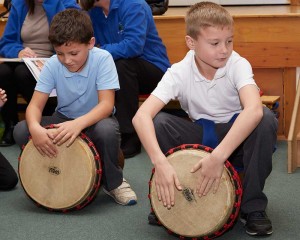 Sweatshirts, cardigans and polo shirts bearing the school name badge and, if wanted, the child's initials can be ordered from the main office. During warmer weather, many girls like to wear the summer uniform of blue striped or checked dresses and boys wear short trousers. The clothing is practical, hardwearing and represents good value for money. Cheques can be made payable to Bankfields Resource Fund. Please click here to download our School Uniform Order Form