Summer 1-
  Why Do Cows Drink Milk?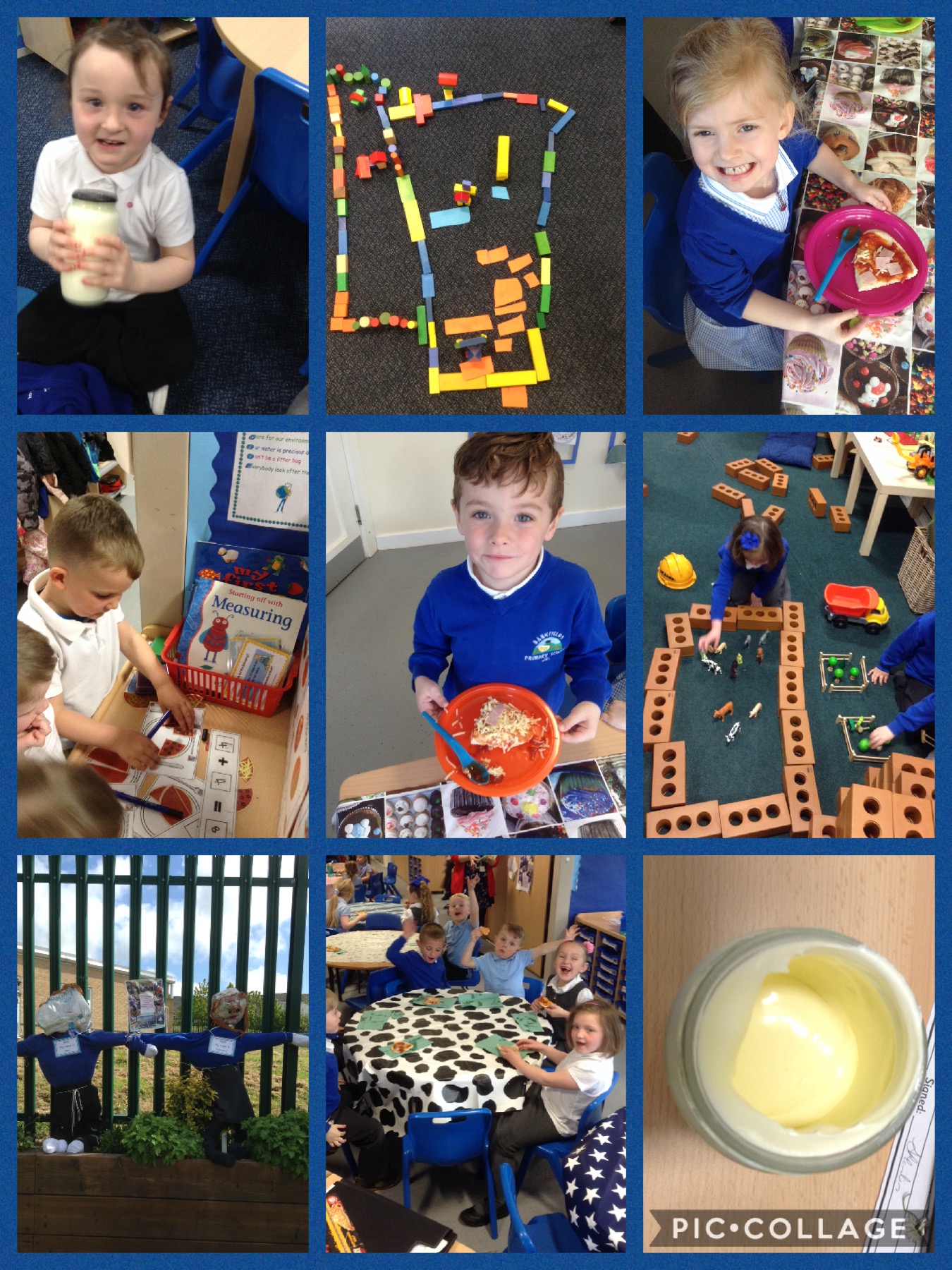 This half term, we have been learning about life on a farm and listening to 'The Scarecrows Wedding' by Julia Donaldson, as well as other stories such as 'The Little Red Hen' and 'The Little Red Hen Makes a Pizza'.
We have worked very hard to retell familiar stories in our own words and write a set of instructions to make our own pizzas. In Maths, we have been busy problem solving related to halving, doubling and sharing using farm animals and pizza slices. Also, we have enjoyed being creative by designing our own farms and then making them using the blocks and bricks in the construction area.
This topic has been amazing, as our teachers have taught us how to traditionally make butter, just like the farmers did in the olden days. Also, we spent an afternoon making our own scarecrows for our Outdoor Area and then we had a vote to name them. We are pleased to introduce our Reception scarecrows, 'Don' and 'Diamond'.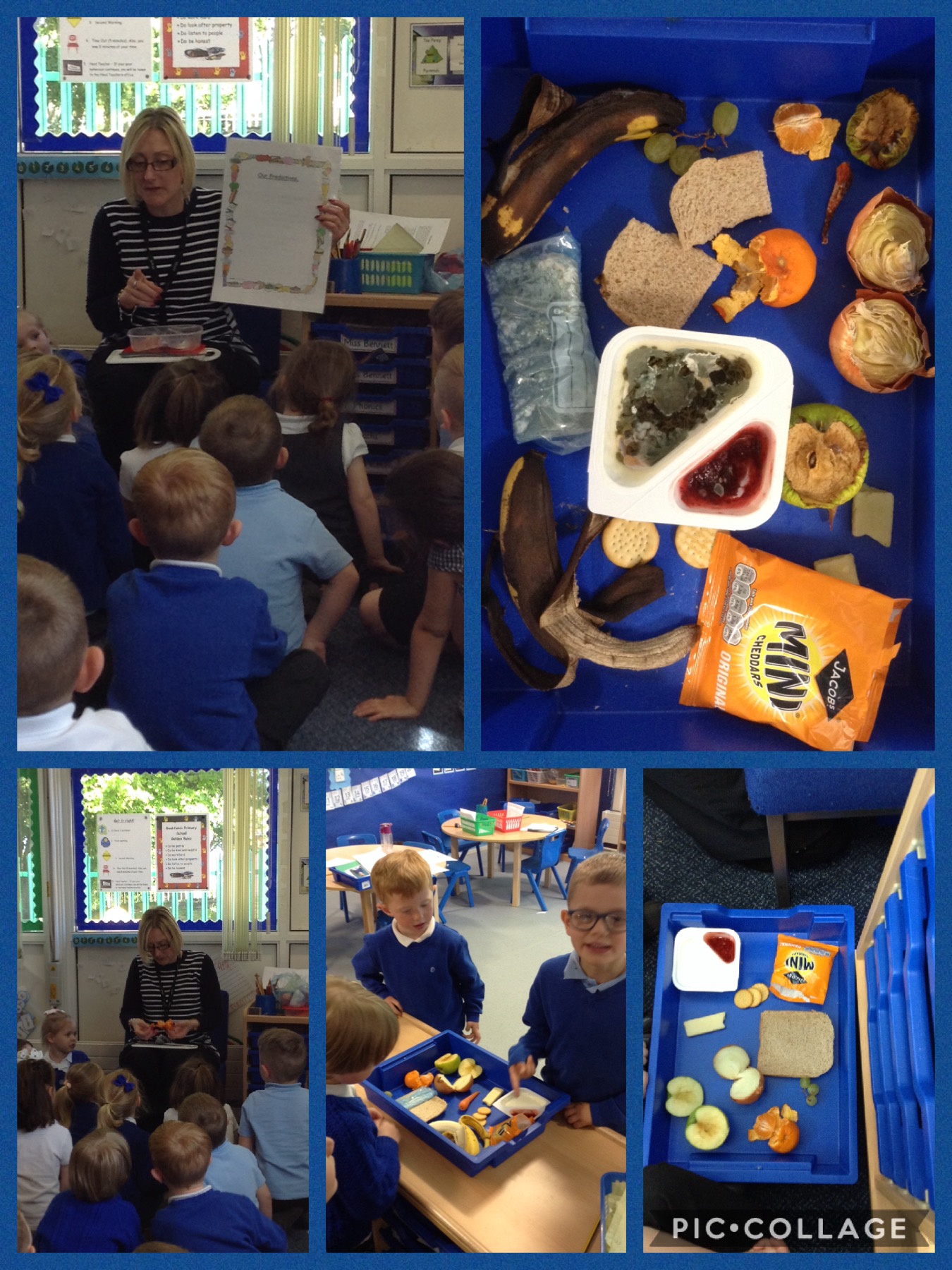 We have been learning about what happens to food when left out in the environment and using words such as 'decay' and 'mouldy' to describe the changes that occurred. Miss Bennett and Miss Turnbull encouraged us make sensible predictions about what we thought might happen and record our ideas. It was fun to go and observe the food every few days and discuss with our friends what we could see. Our experiment lasted three weeks!
Summer 2-
  Do Ladybirds Have Spots?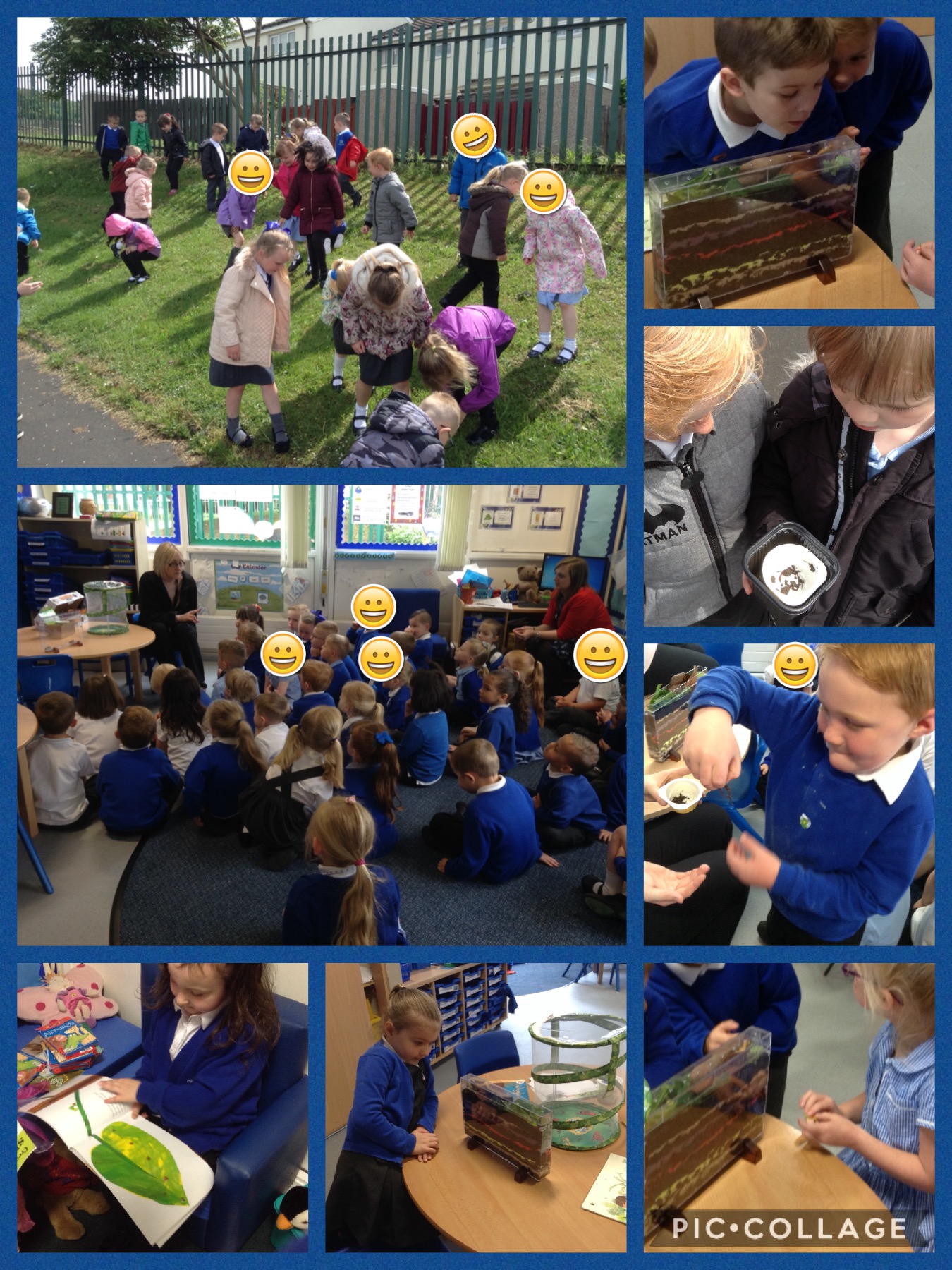 This half term, we have been learning about mini-beasts. We created our own wormery using soil, coloured sand and leaves and then we went outside to 'charm' the worms by stamping our feet on the grass to lure them to the surface. Also, we sent off for our own caterpillars and they arrived in the post after our half term holiday. We have had great fun watching them develop during the different stages of their life cycle. They have just made their cocoons and we are watching them closely, as they are going to turn into butterflies any day now! Our teachers set up an observation table and we have been able to observe the worms and caterpillars carefully using magnifying glasses.
Also, we have been reading 'The Very Hungry Caterpillar' by Eric Carle and reading lots of non-fiction books about different kinds of mini-beasts. We know lots of interesting facts.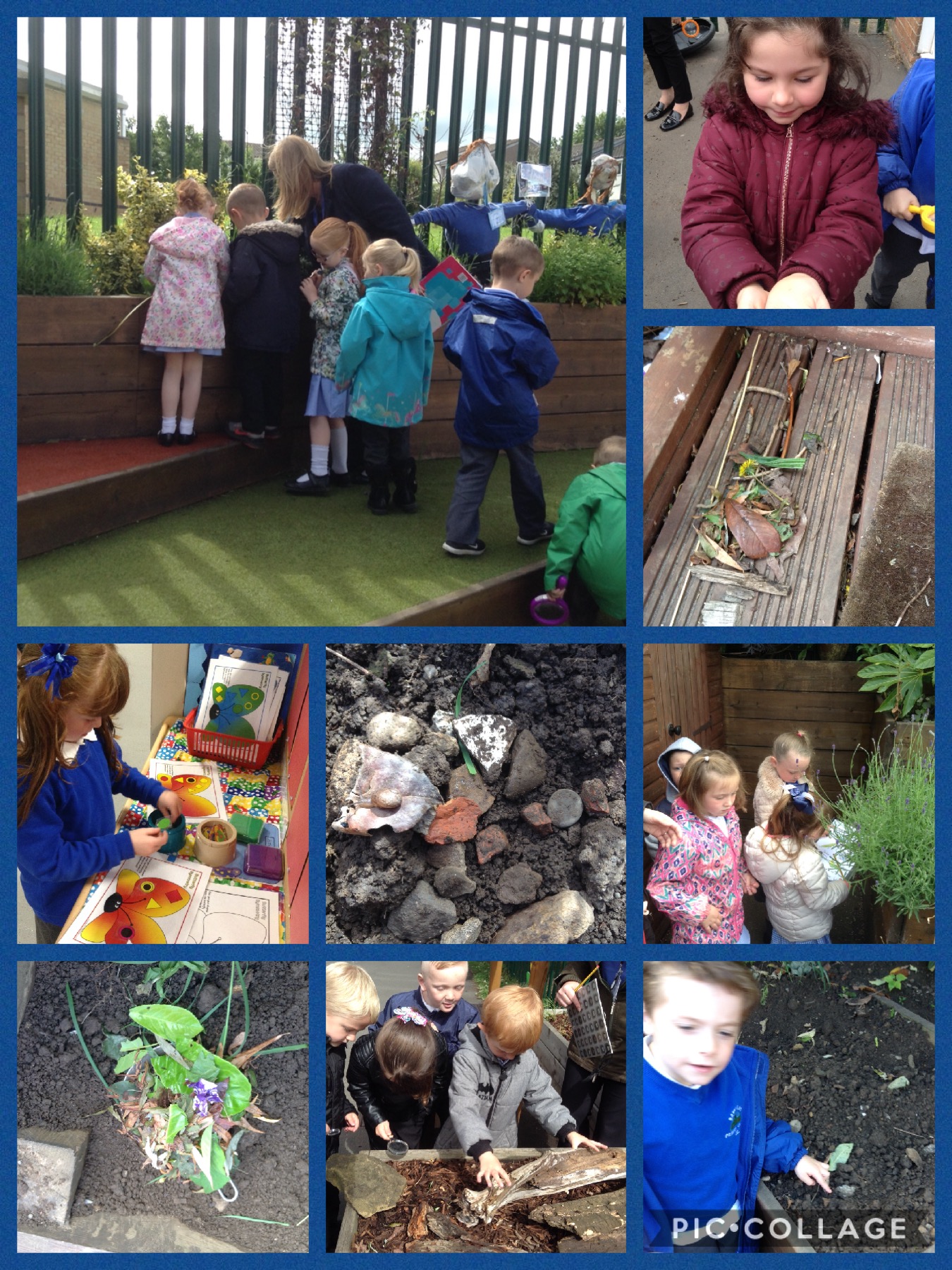 Our new topic was supposed to begin with a mini-beast hunt outside but the weather was terribly wet. But by the end of the week the rain had stopped and we went outside to use magnifying glasses to look for mini-beasts. Also, we were set the challenge to build a mini-beast home using leaves, twigs, flowers and small stones.
Studying mini-beasts has been a great opportunity to learn about symmetry and we made our own symmetrical butterflies using different colours and shapes. It has also been a great opportunity to revisit how to measure objects by length and height, as we measured how long our worms were using cubes and identifying the 'shortest' and 'longest' worms.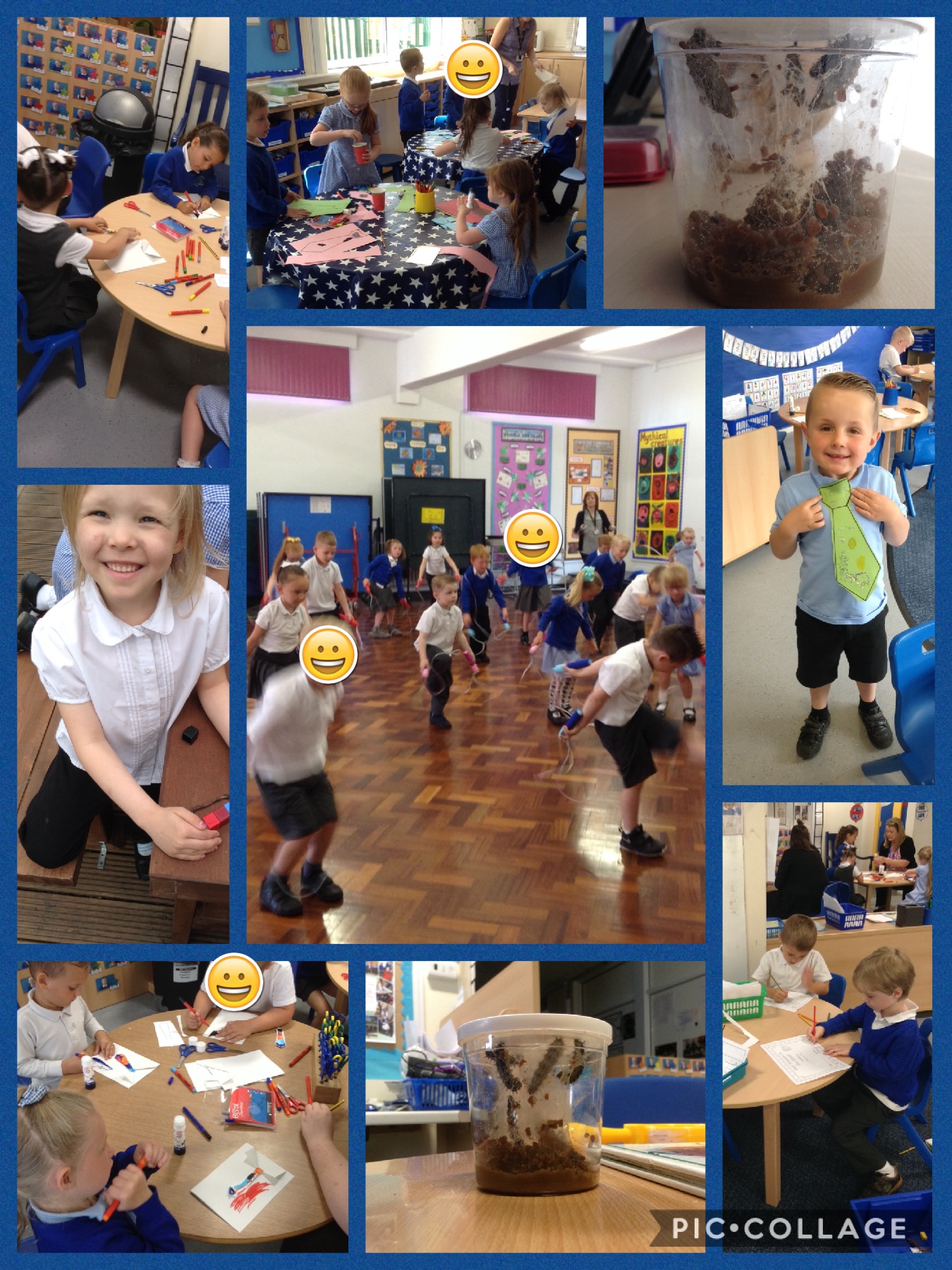 It has been Sport's Week at Bankfields Primary and Mr Sidgewick has been busy organising activities for all the children. Reception were invited to a skipping event and we were taught us how to skip carefully. The skipping ropes were very clever, as they counted how many skips we made and afterwards we were able to check the amount on the counter. Also, we were really excited when our parents came to watch us on our Sport's Day, as we completed all nine races and just had lots of fun!
During this half term it was Father's Day and we spent time thinking about our Dad's, Granddad's, Uncles and brothers. We were very busy making cards, colourful ties, certificates and most important of all talking about how important they are to us!