Welcome to Nursery!
We are a 39 place Morning Nursery and a 26 place Afternoon Nursery.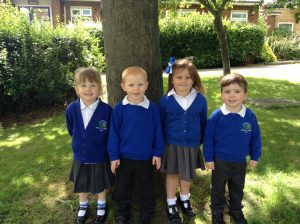 Nursery Opening Times
Morning: 8.40-11.40 am
Afternoon: 12.20-3.20pm
Summer 2 – 2018
Sports Week
We are looking forward to sports day – we had a go at some of the challenges we are going to do!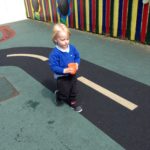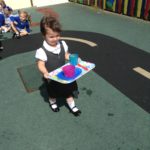 We enjoyed a dance session with Miss Whitby today, singing and putting movement to lots of different songs. We had lots of fun!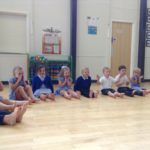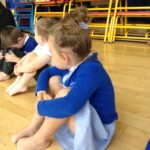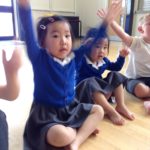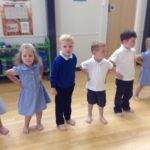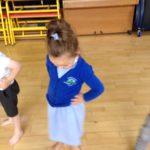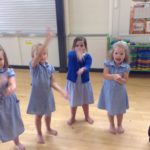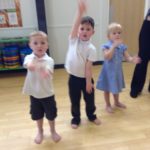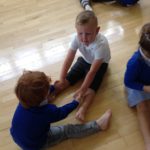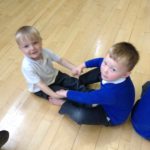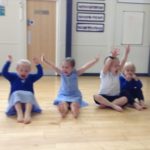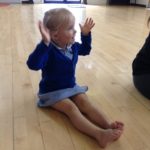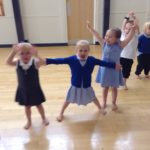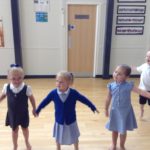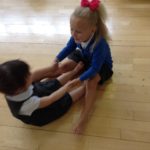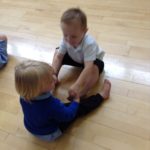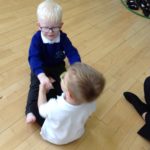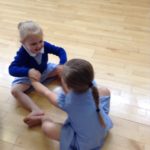 Summer 1 – 2018
Royal Wedding Celebrations
We had a great time celebrating the Royal Wedding in Nursery. We made our own sandwiches, decorated a cake together, talked about the Royal Family, make union flags and lots of other things. The weather was beautiful and we were able to enjoy our party food outside!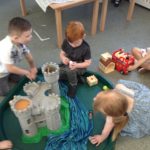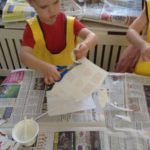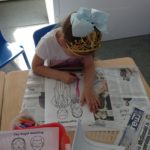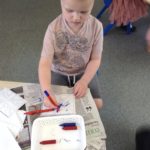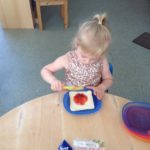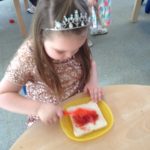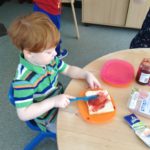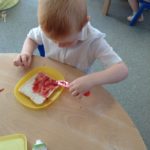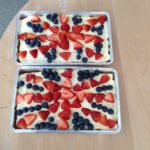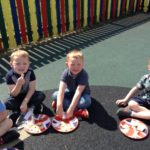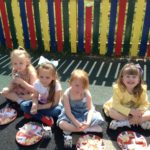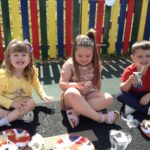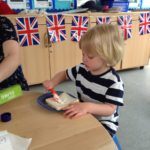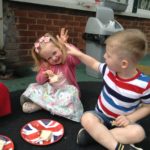 How many colours are there in the rainbow?
We have enjoyed exploring different colours and how they change when we mix them together. We looked at the artist Jackson Pollock and created splatter paintings using a paintbrush and flicking paint! We learnt how to mix colours together carefully to make new colours. We also created symmetrical butterflies using different colours.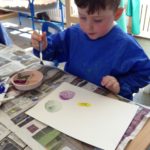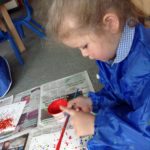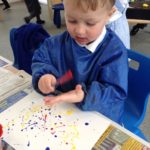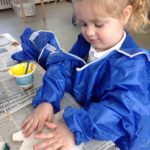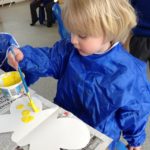 Spring 2 – 2018
Why are eggs alive?
We celebrated Easter and explored new life in Nursery. We went on a Spring walk around school to look for signs of Spring. We did observational drawings and paintings of daffodils and watched how flowers decayed over time. We enjoyed having our families join us for a Easter craft session completing lots of different crafts. We also enjoyed making Easter nests and cards to take home.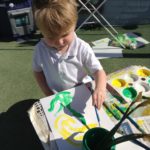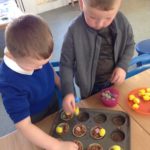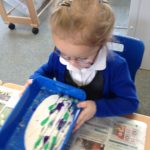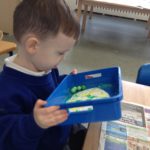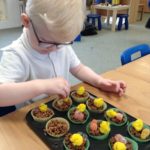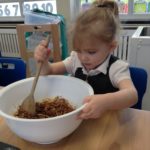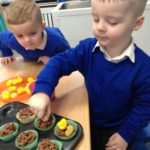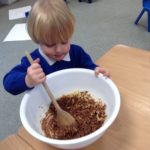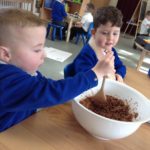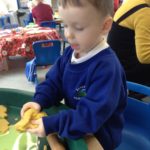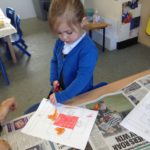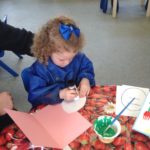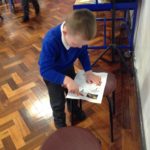 Spring 1 – 2018
Where does snow go?
We have begun our new topic 'Where does snow go?' We have been very fortunate to experience some more snow! We enjoyed making footprints, listening to the crunching of the snow and then warming up with hot chocolate. We have also enjoyed making sculptures with sugar cubes and winter small world figures and counting 1-1 snowballs onto mittens.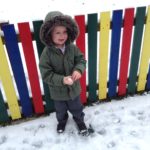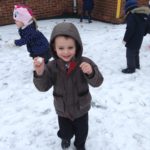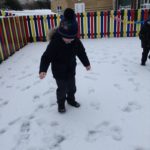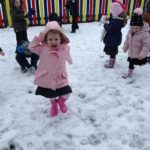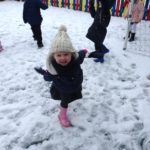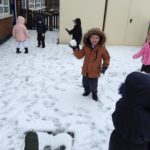 Autumn 2 – 2017
A selection of photos from our Christmas celebrations including a Christmas play, party, visit from Father Christmas, family Christmas craft session and lots of lovely Christmas activities in Nursery. It was a very busy and enjoyable December!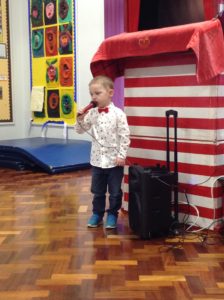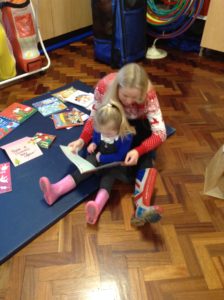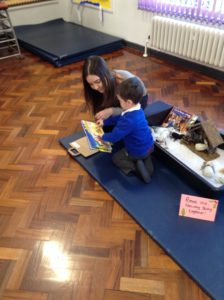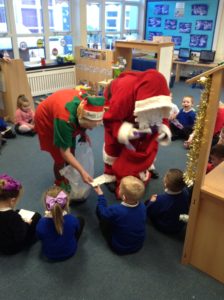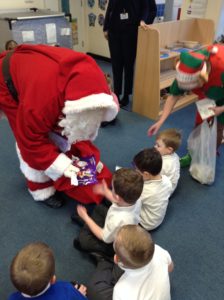 We enjoyed the snow in Nursery! Taking advantage of the weather, we enjoyed the feeling and excitement of snow, made snowy pictures, created story lines for a frozen castle and warmed up with hot chocolate!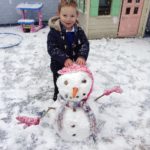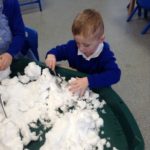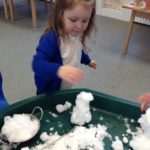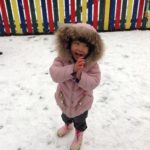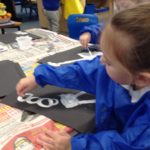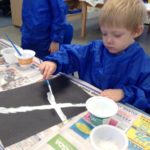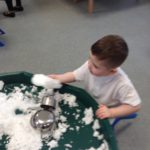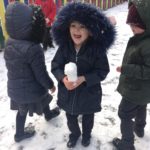 Children in Need 2017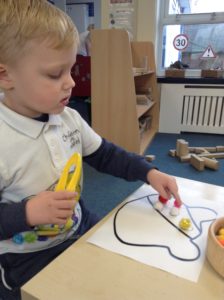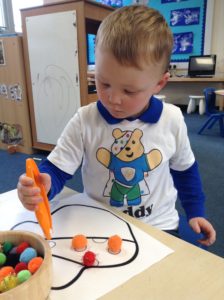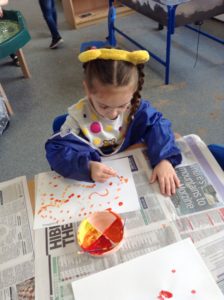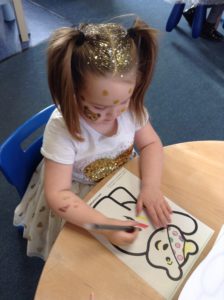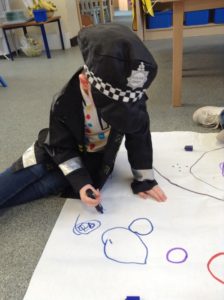 Healthy Eating Week – we talked about the importance of healthy eating and which foods are good for us and which foods are for treats. We made healthy fruit kebabs choosing from a range of fruits.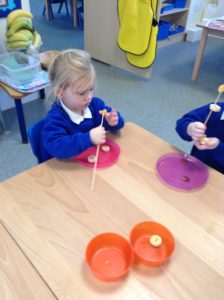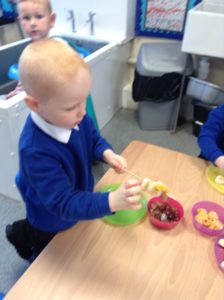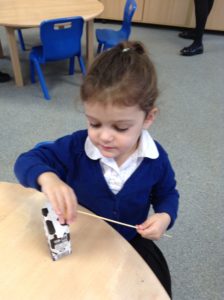 We explored the topic 'Are leaves crispy?'. We had lots of fun exploring the season of Autumn in different ways.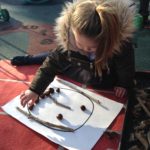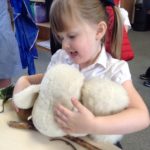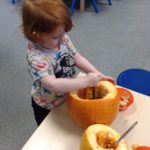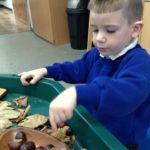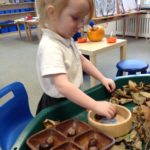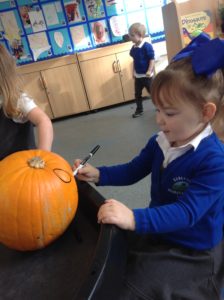 Autumn 1 – 2017
We enjoyed our maths family learning session on 19.10.17. It was great to see so many parents/ carers joining us for this session and hope that you are able to take an idea from the session home with you to try!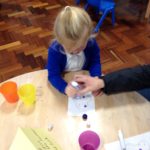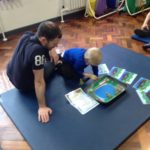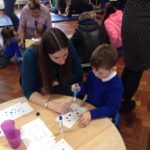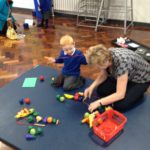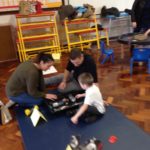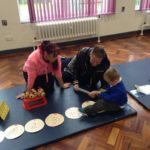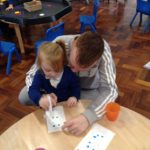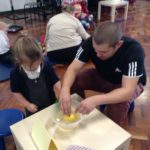 Harvest 2017
We joined the rest of the school for our Harvest Service. This year we collected for the Redcar Area Foodbank (which covers Eston and South Bank). We looked at different vegetables and discovered what shape they create when printing. We have read the story of 'The Enormous Turnip' and 'The Little Red Hen' together, joining in with key phrases. It has been lovely to see the children retelling the stories themselves as well.
We have tasted different kinds of bread, and voted to find out which bread was our favourite. We then made our own bread rolls together. We also helped to prepare food for our Harvest Feast. We enjoyed soup and bread, followed by apple flapjack and custard!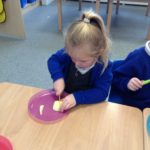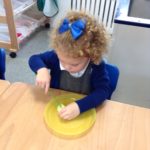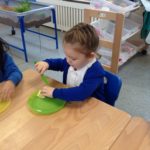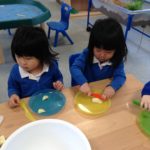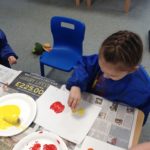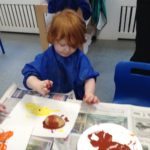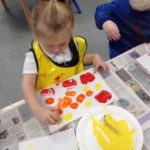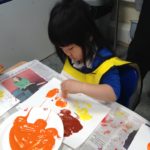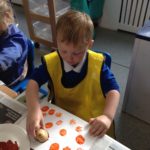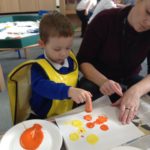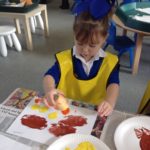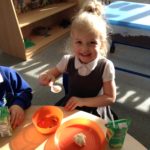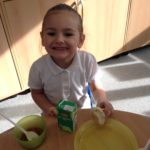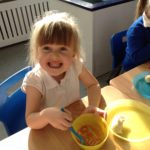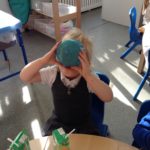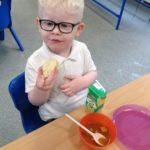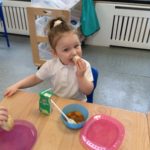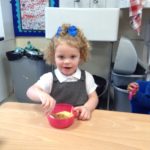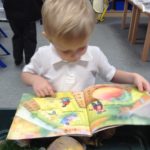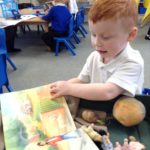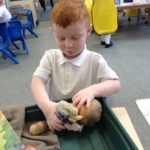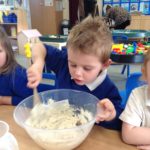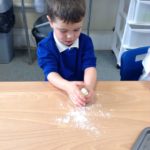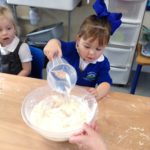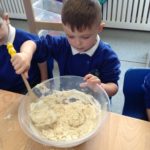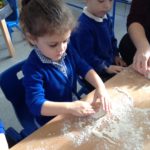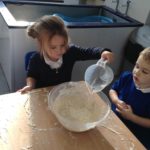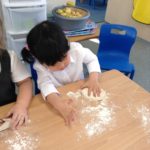 We made chocolate crispy cakes in Nursery and we decorated the cakes with sweets. We had to recognise the number on the bowl and then count 1-1 the right number of sweets to go on the top!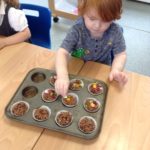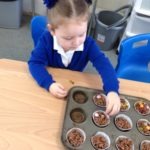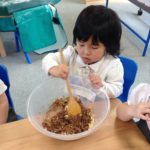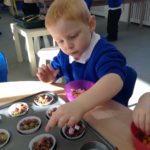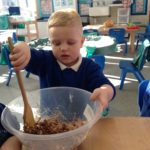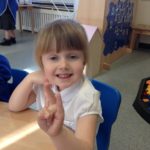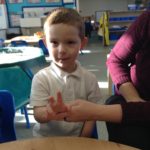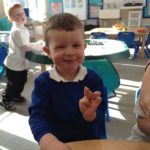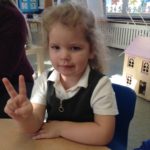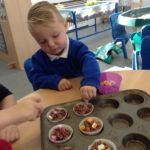 We are working really hard to develop our writing at the moment in Nursery in a variety of ways. Here are a few of the things we have been doing: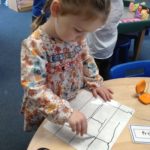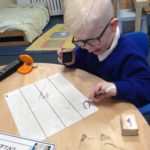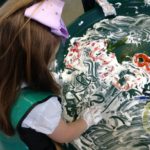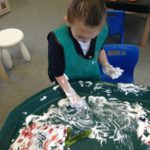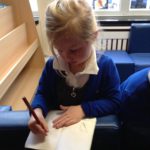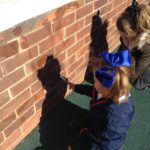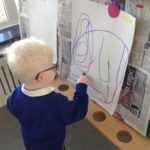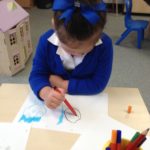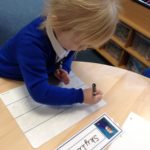 We have been out around school on listening walks to hear and identify different sounds. We heard lots of things including the birds, the leaves rustling, cars and the phones in the school office. Maybe at home or on walks outside, ask your child to see what they can hear with their 'listening ears'?!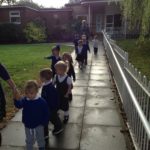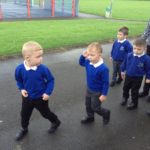 We are really curious about numbers around us in our environment, counting 1-1 different objects and beginning to represent numbers. Parents and carers can support children further by spotting numbers when out and about, helping with the shopping e.g. counting out 3 apples and having fun mark making numbers. The beach is a fun place to make marks in the sand!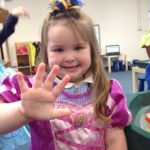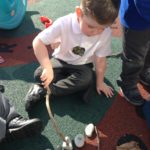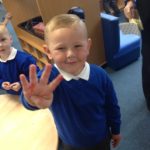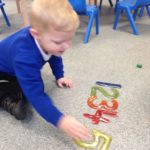 We have been learning about ourselves and talking about how we were all babies and how we have grown. We have talked about what a baby can do and what it needs and how we are different now we are 3 and 4! We enjoyed having Mrs Brearley and Baby Harry into Nursery to show us some ways babies need to be looked after.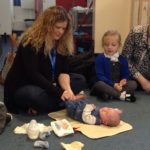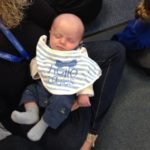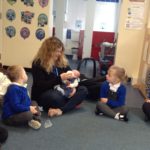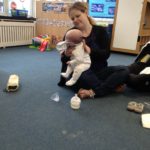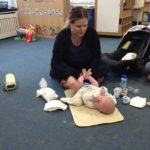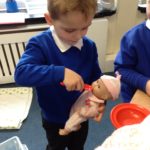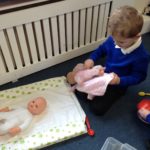 We had a lovely time at our first family session. It was great to see so many family members working with the children! Thank you for your support.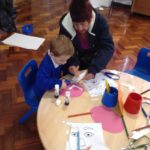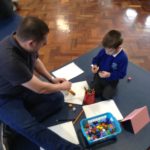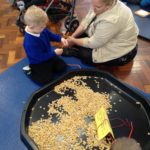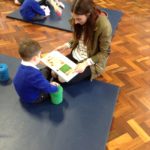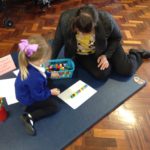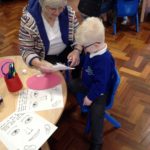 We enjoyed making jam tarts in Nursery. We had to listen to the instructions and watch what we had to do ready for us to follow the instructions to make a jam tart each. They were delicious!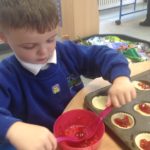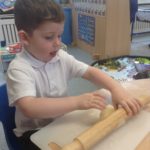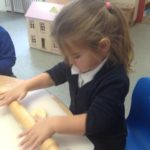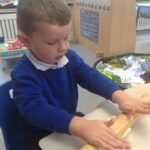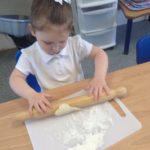 We made currant buns after singing the rhyme 'Five Currant Buns'! We are getting really confident using our fingers to represent numbers.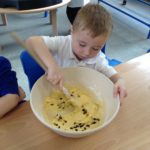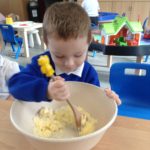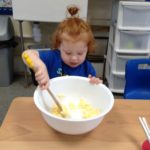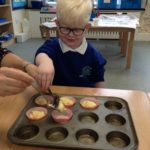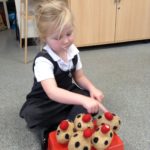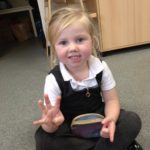 We had fun making gingerbread friends. We have been exploring our five senses, and we used our sense of smell to smell the ginger!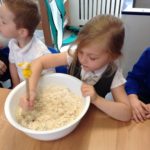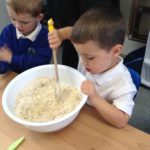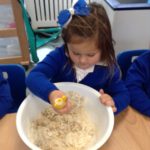 We read the story of Elmer and talked about how we all look different but we are all special. We then made our own colourful elephants to decorate our entrance hall into Nursery.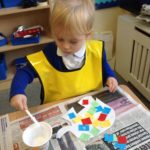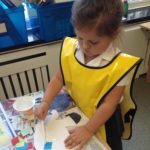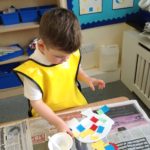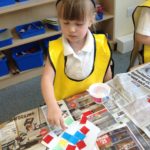 What a great start to the new school year!
Here are a few photos to show some of the things we have been busy with in Nursery this week…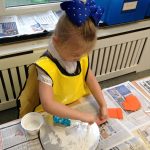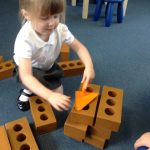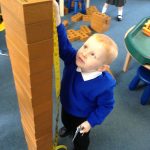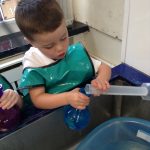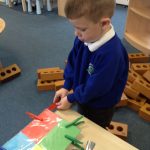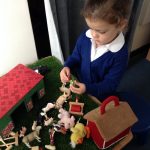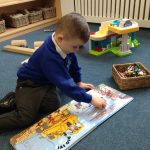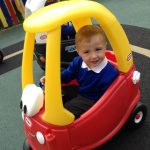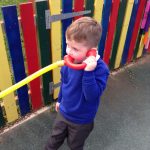 Summer 2
This half term we have watched how our caterpillars have grown into butterflies. We have observed and talked about the changes and we have enjoyed reading the story of 'The Very Hungry Caterpillar'. On Thursday, we set our butterflies free and watched them fly away.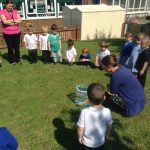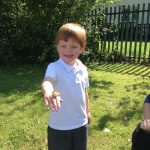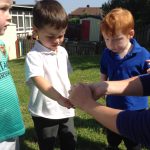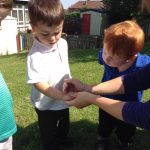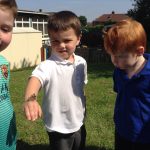 British Values Week 2017:
We talked about Wimbledon and how it is traditional in Britain to play tennis. We watched a short video and then we had a go at using the bats and balls on the field. We also enjoyed another Wimbledon tradition – eating strawberries and cream!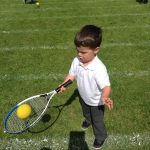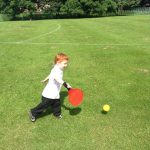 We looked at our flag – The Union Flag and talked about which colours are used. We then made our own. We listened to music from the Last Night of the Proms and waved our flags!
To finish our week, we enjoyed afternoon tea in Nursery. We baked scones and enjoyed them with sandwiches and cakes!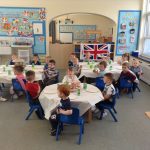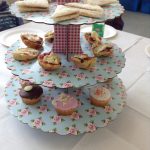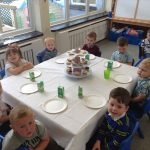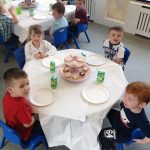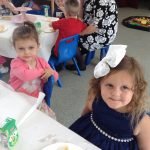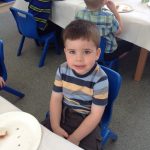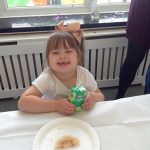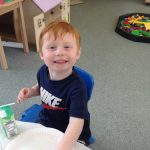 Arts Week 2017:
This year, we have looked at different artists and created our own artwork in the style of the artist.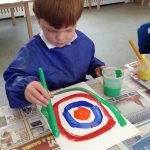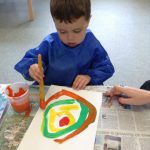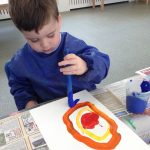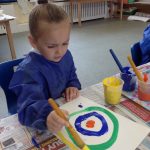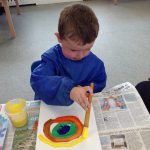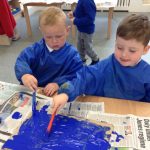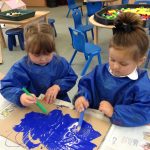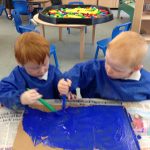 We also made our own pizzas using muffins and a variety of toppings. We really enjoyed making and eating them!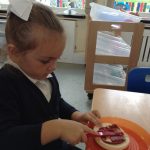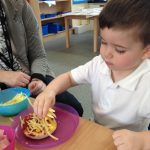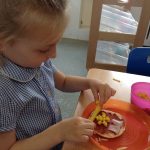 We enjoyed taking part in some track races with our friends.
Morning Sports Session – Thursday 22nd June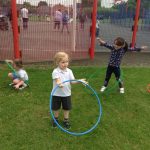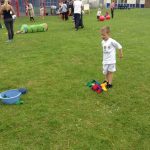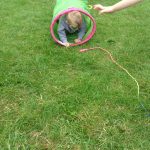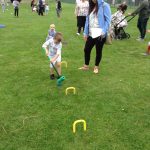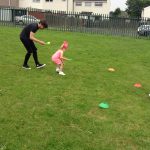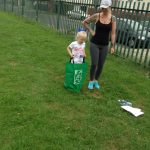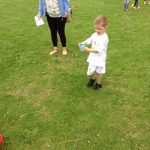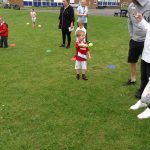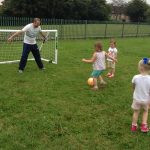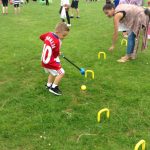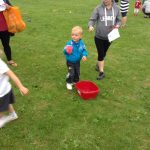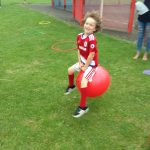 Afternoon Sports Session – Monday 26th June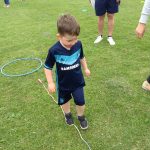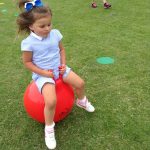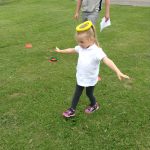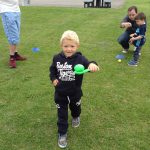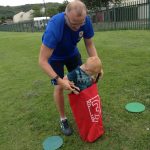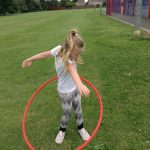 Summer 1
We have begun to prepare for transition into Reception for our children who are going into full time school soon. We went for a visit to look and explore the Reception learning environment, listen to a story on the carpet and had a play on the field in the willow maze. We all enjoyed exploring the new areas!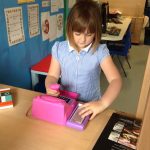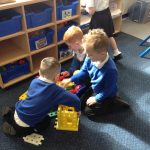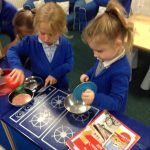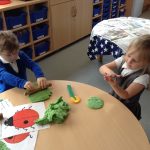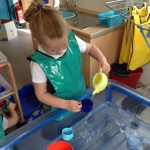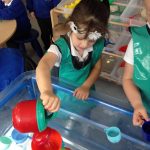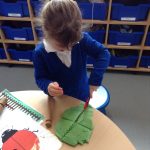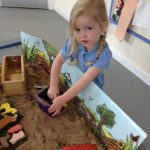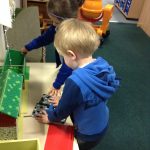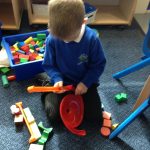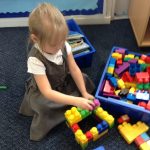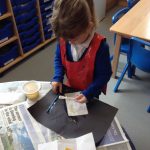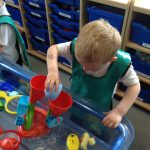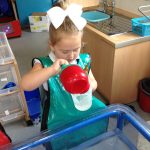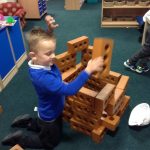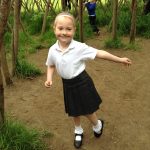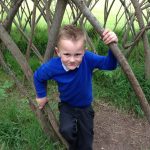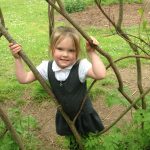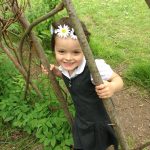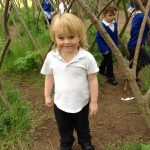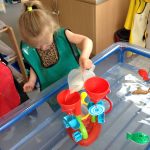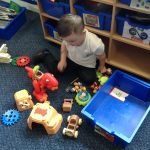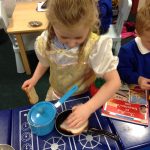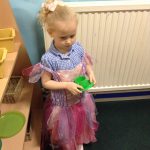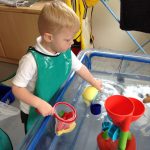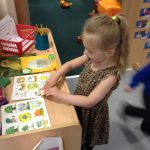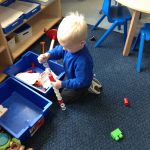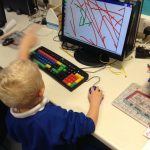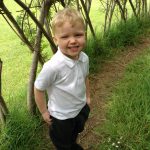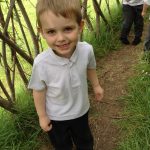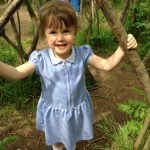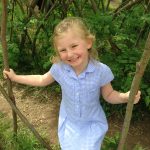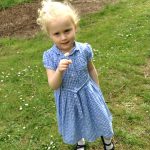 We celebrated St. George's Day in Nursery by making flags, decorating biscuits and retelling the story of St. George and the dragon!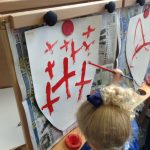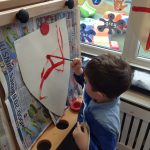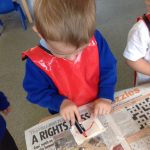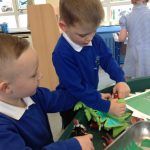 We are continuing to develop our maths skills in a variety of ways, including identifying and ordering numbers. We are getting very confident counting objects with 1-1 correspondence. We are also working on our number formation at the moment.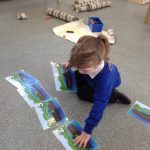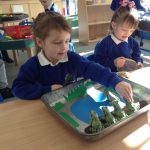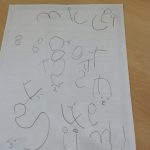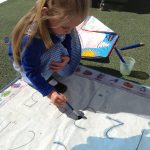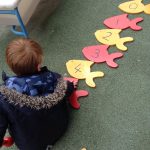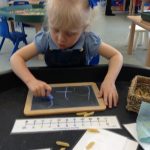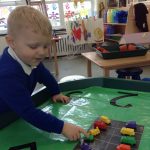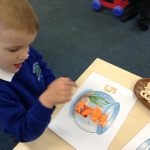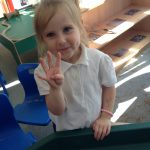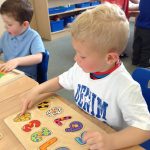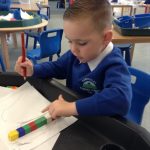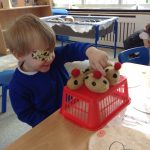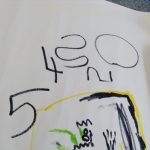 We are getting so confident retelling stories using the book and story props. We are developing our listening skills to listen to the story and then answer questions about the text.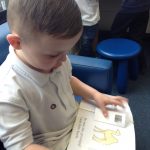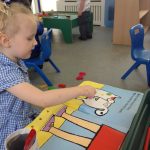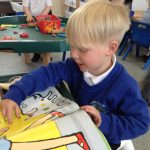 Spring 2
Maths is all around us!
We are really working hard with our maths at the moment in a variety of ways inside and outside!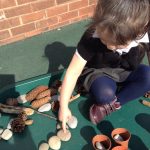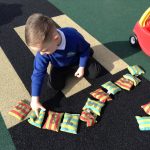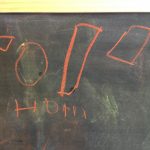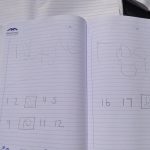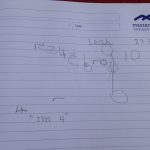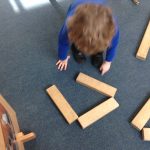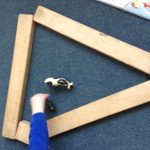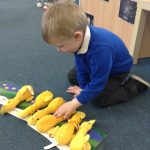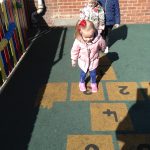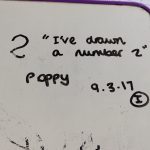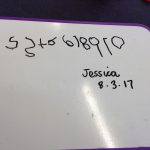 Easter Celebrations 2017
We have had lots of fun learning about Spring and Easter through our Cornerstones topic 'Are Eggs Alive?' We have been on a spring walk around school, read Easter and spring stories, counted chicks, painted daffodils, observed the effects of flowers when they die and sorted and counted lots of eggs!
Lots of family members came to join us for our Easter craft session- thank you for all your support.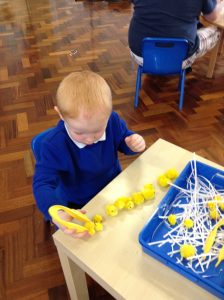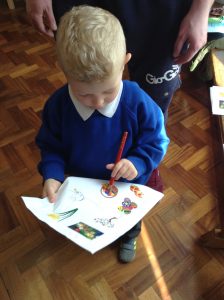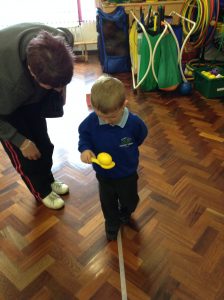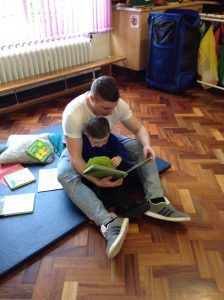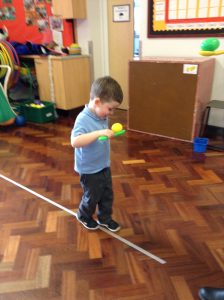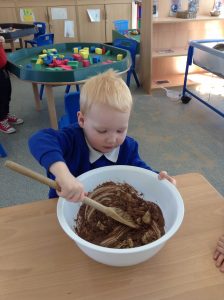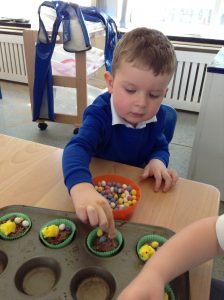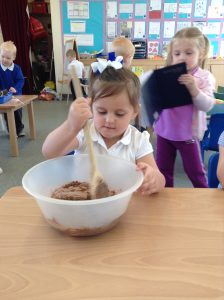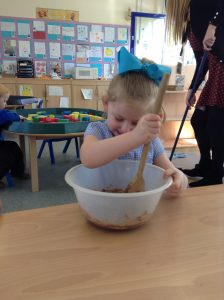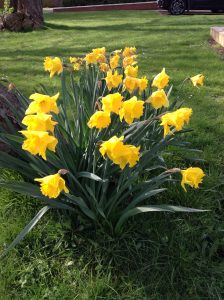 Healthy eating and looking after our teeth
We borrowed a resource box and found out a little more about how to help look after our teeth. We talked about the best way to brush our teeth, that we need to brush our teeth for two minutes in the morning and evening and we need to visit the dentist. We also sorted foods into two groups – foods that are good for our teeth, and other foods which are treats and after which we need to make sure we brush our teeth well!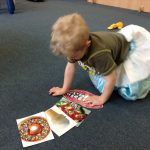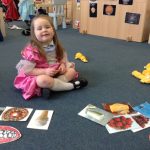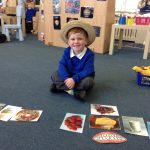 Red Nose Day 2017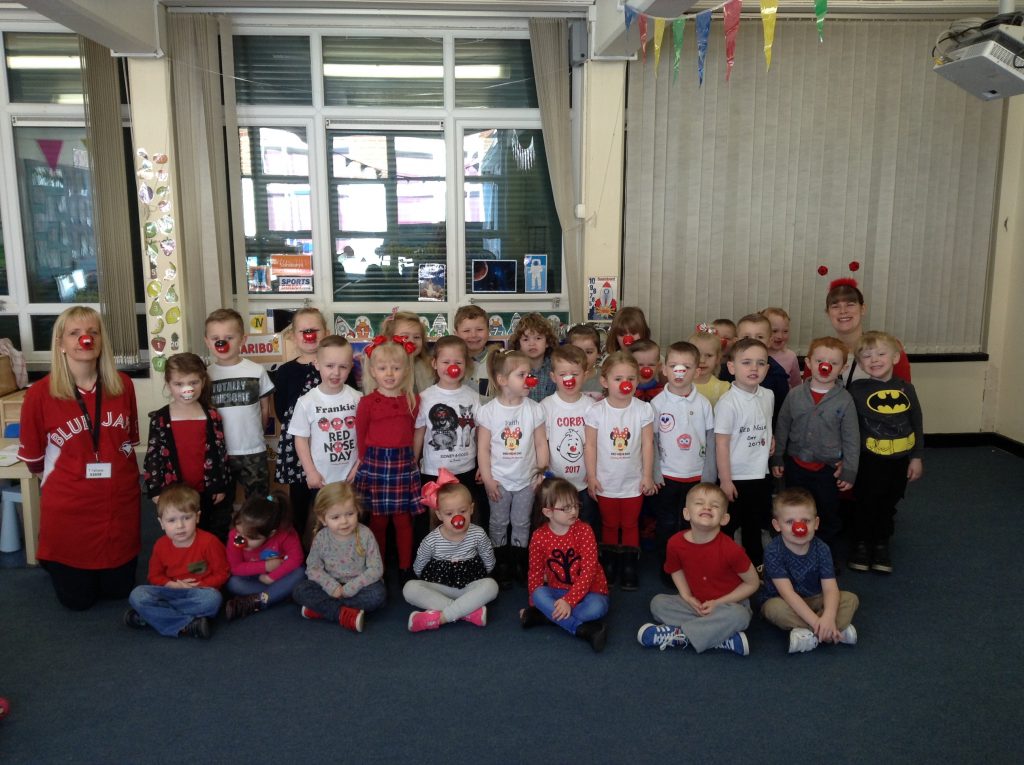 Katie's Fundraiser – Tuesday 21st March 2017
We all raised money as a school to help Katie, one of our Y6 girls. We decorated cakes to sell, dressed up in red and white and painted England flags!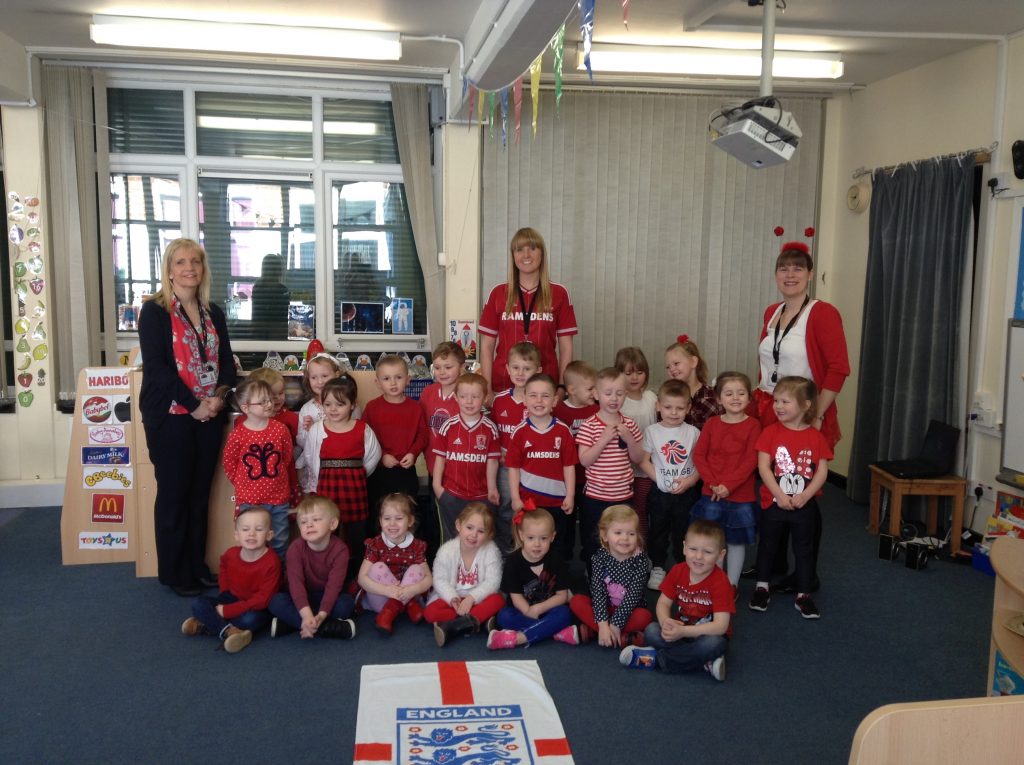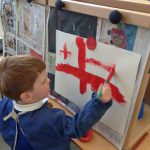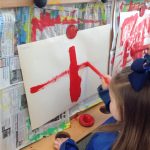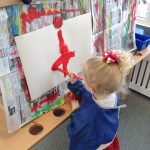 World Book Day – 2nd March 2017
We have had a wonderful day celebrating World Book Day. We enjoyed getting dressed up in a variety of costumes – don't we look wonderful?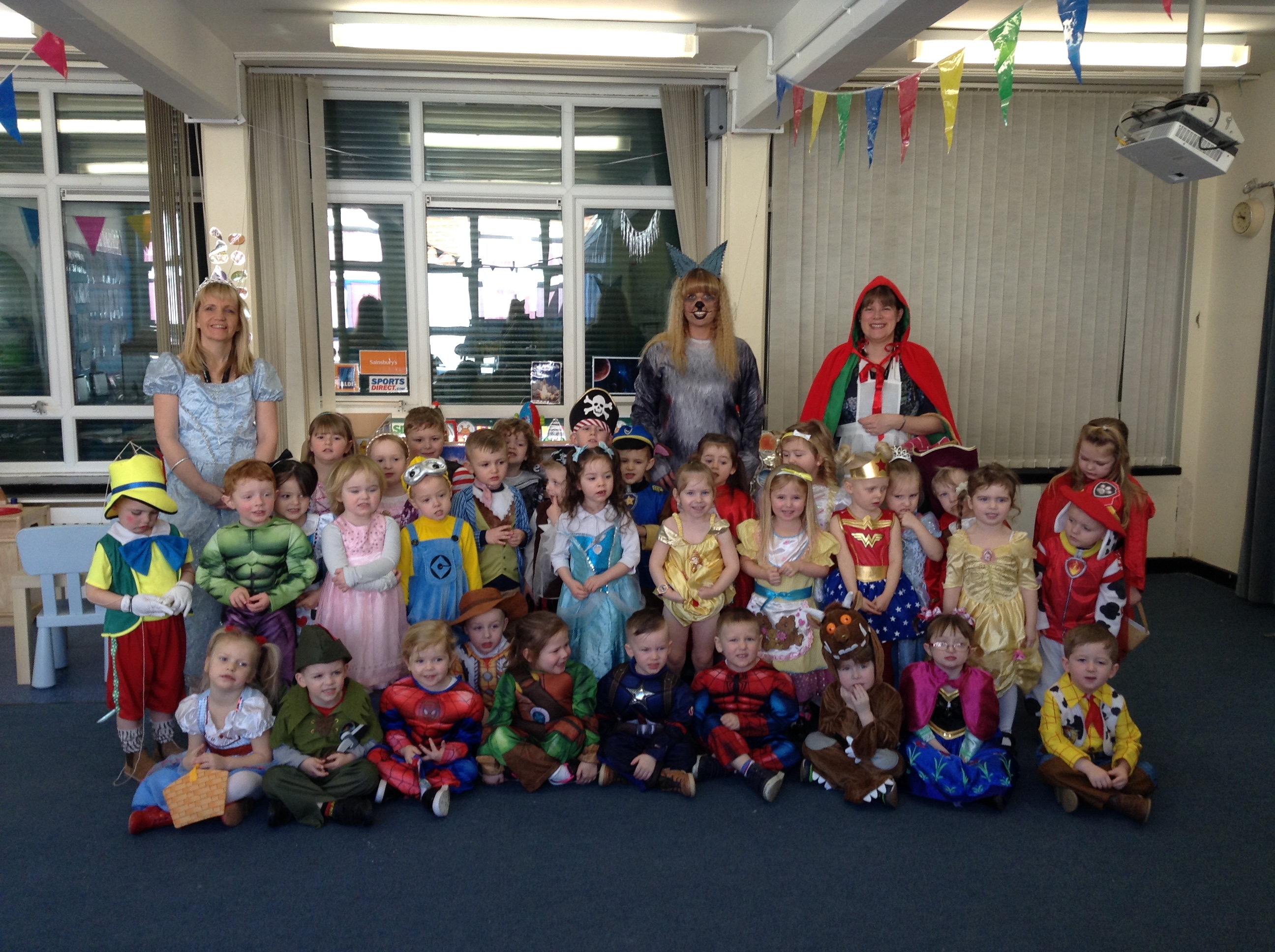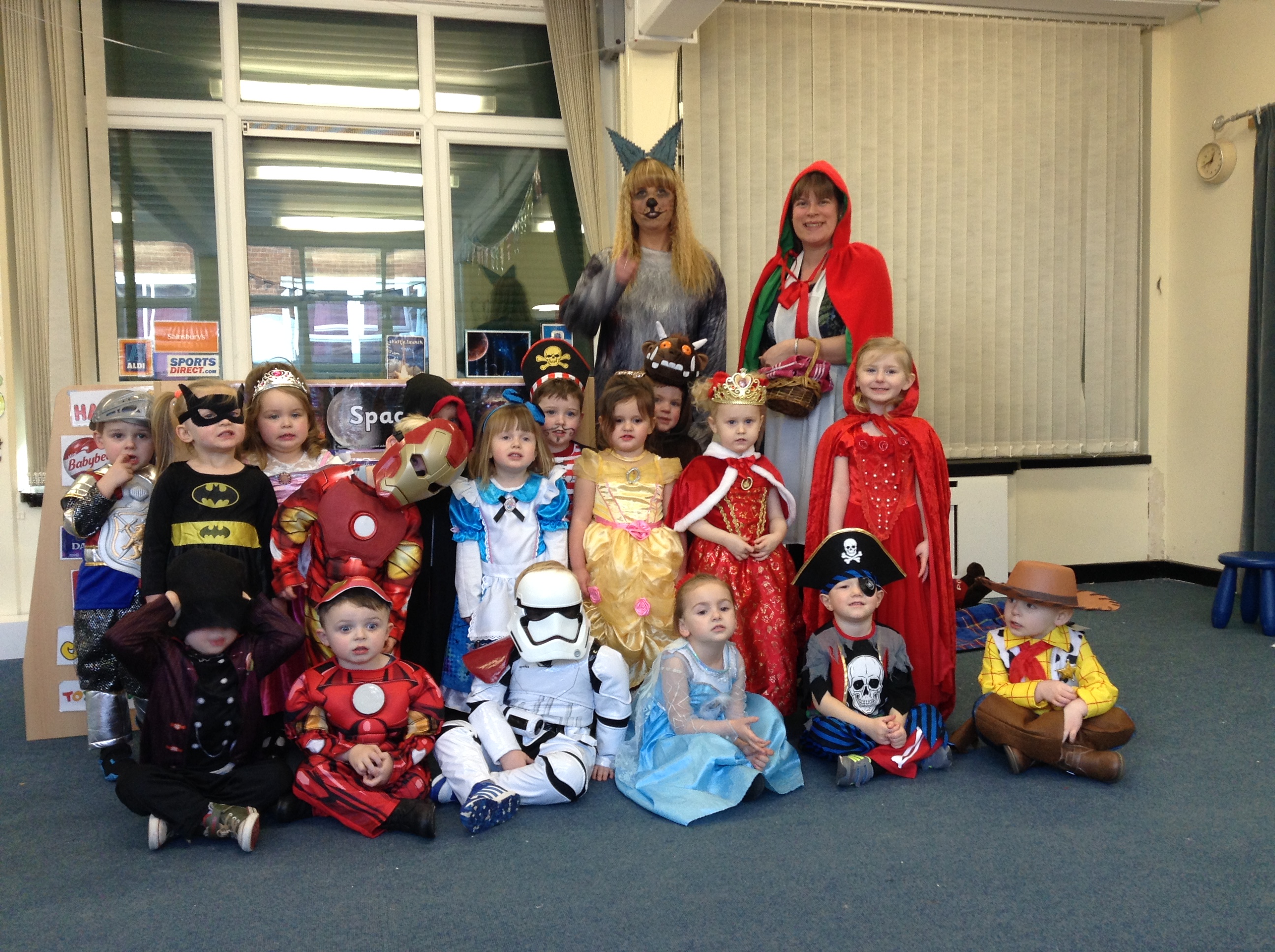 We enjoyed listening to and reading lots of stories and singing rhymes. We even listened to stories on the iPad!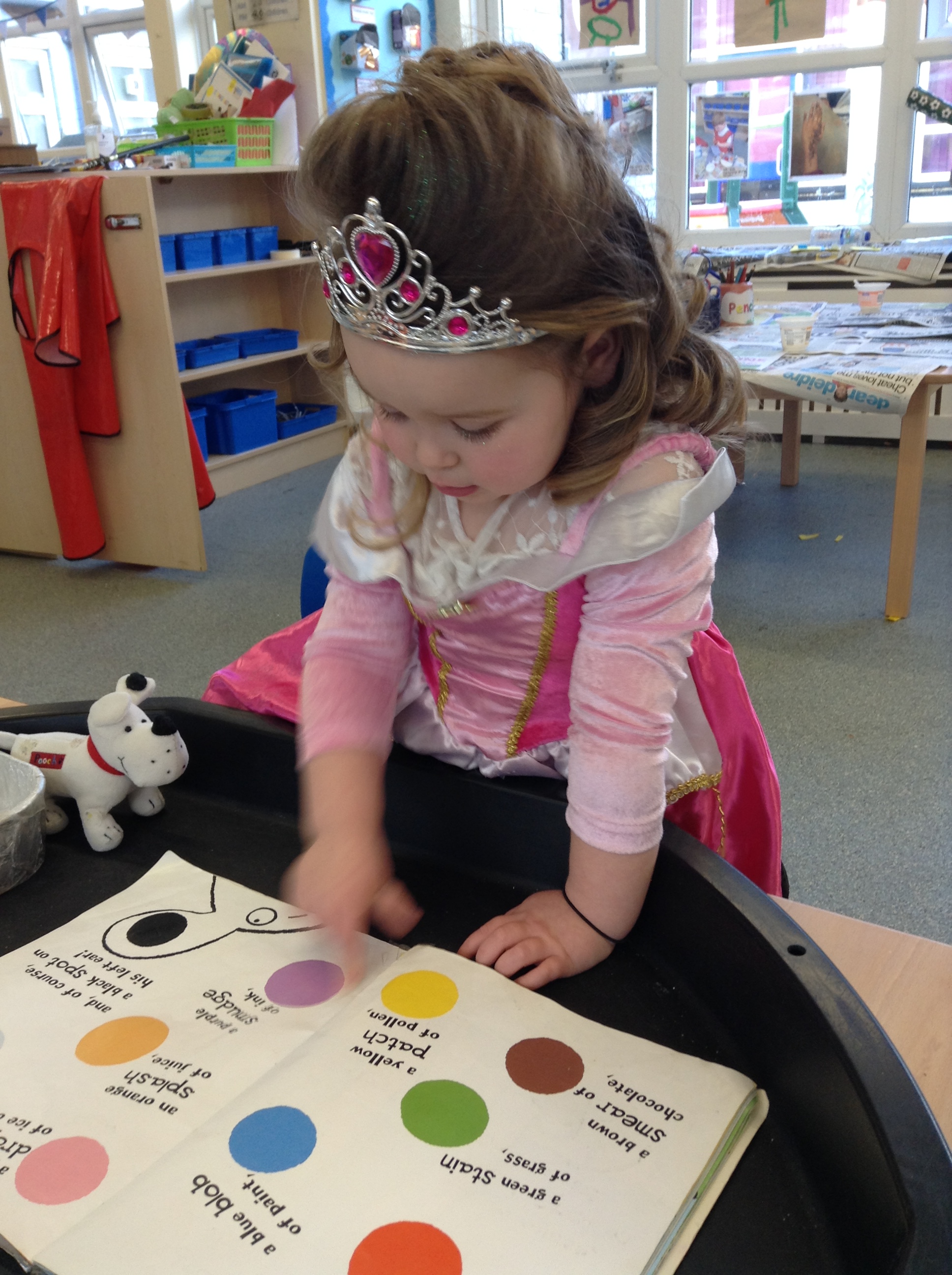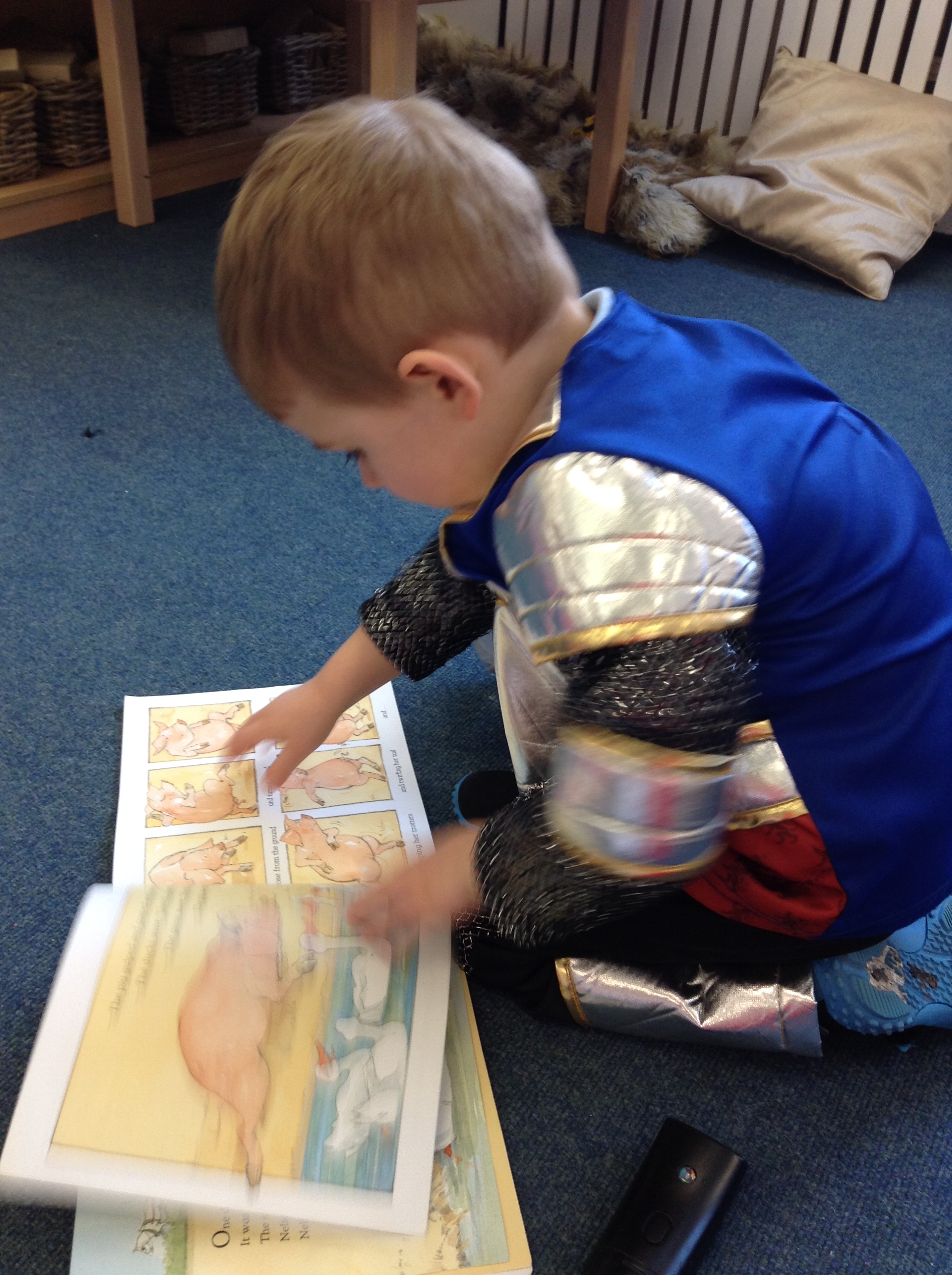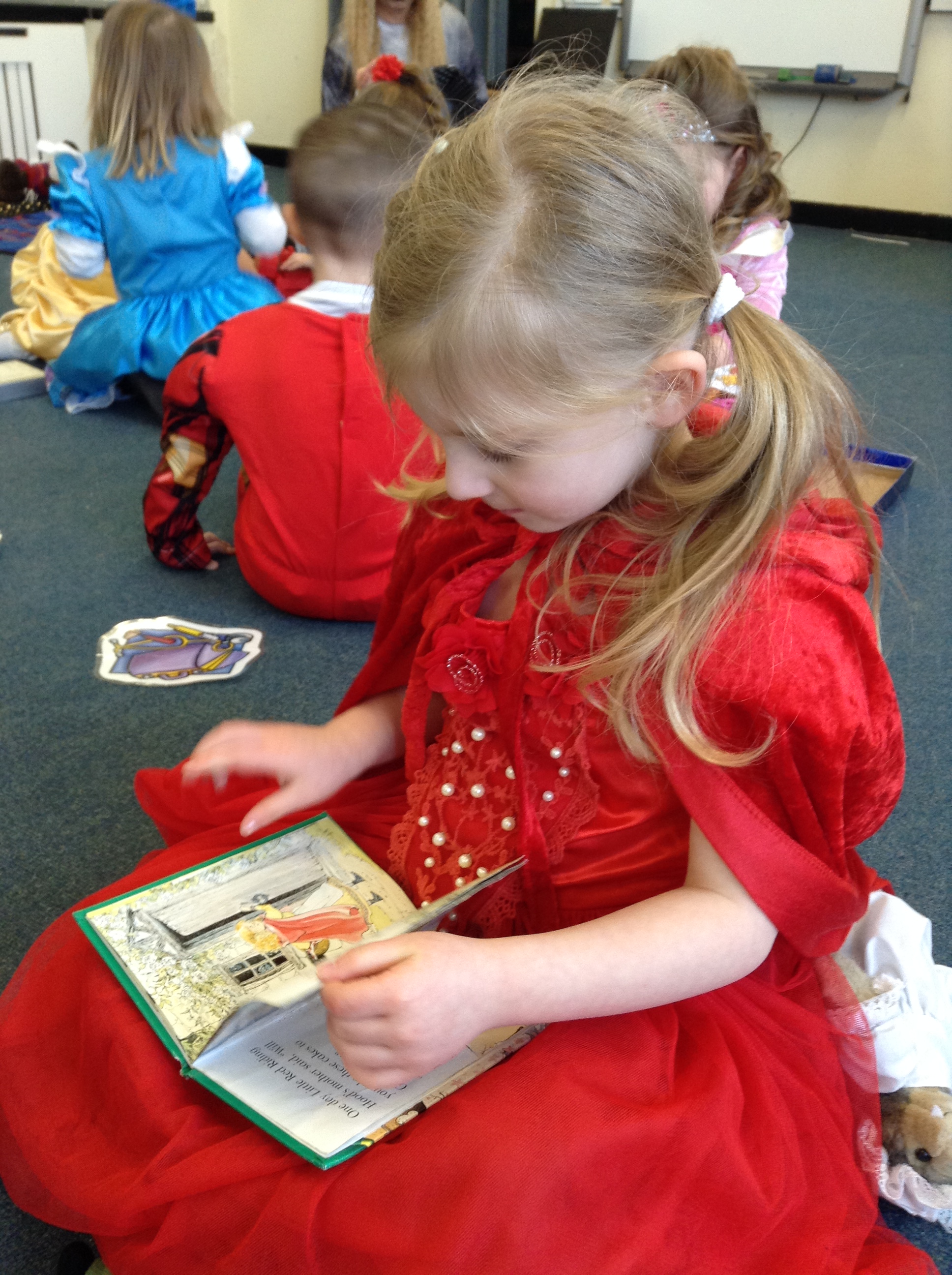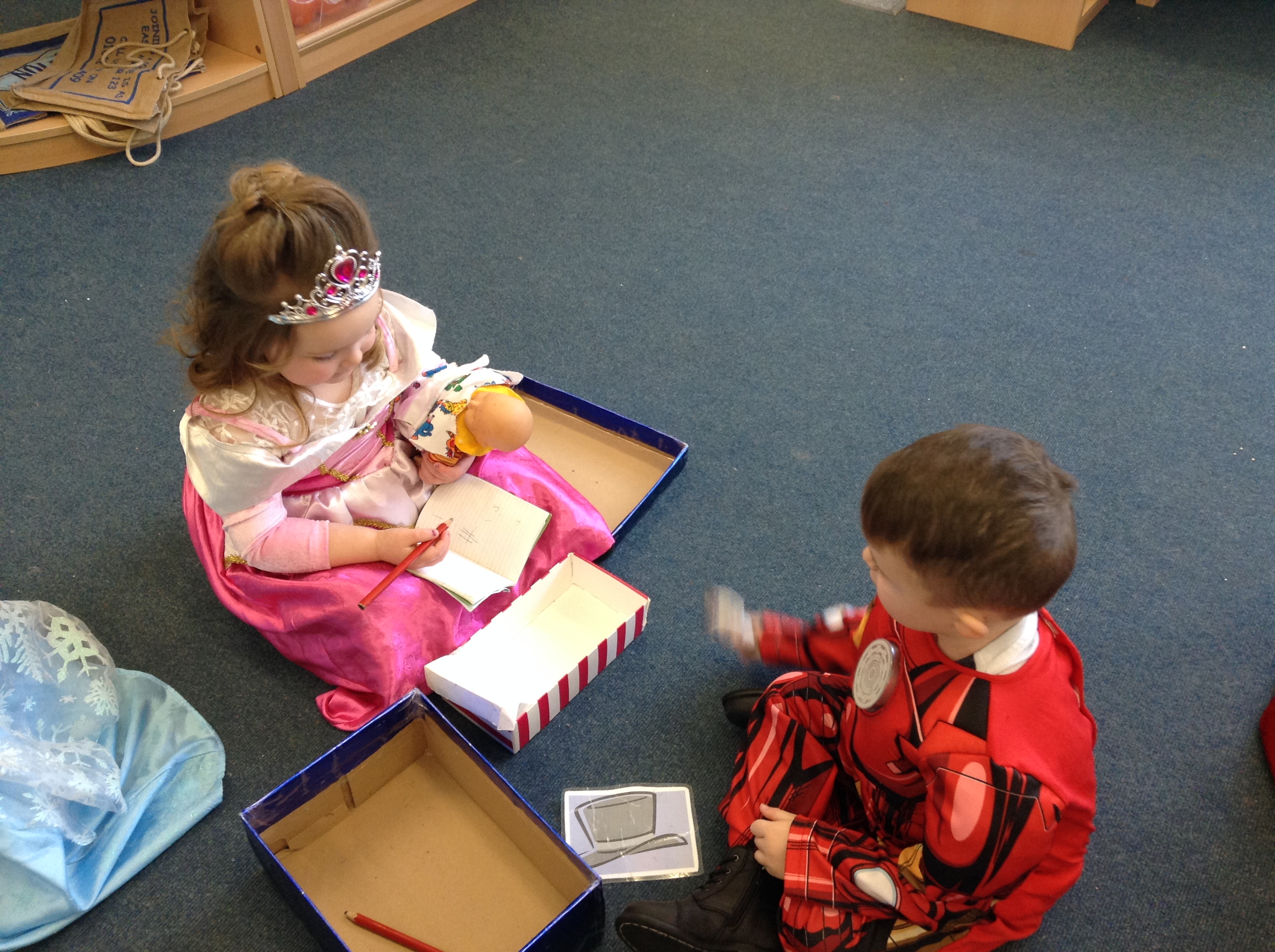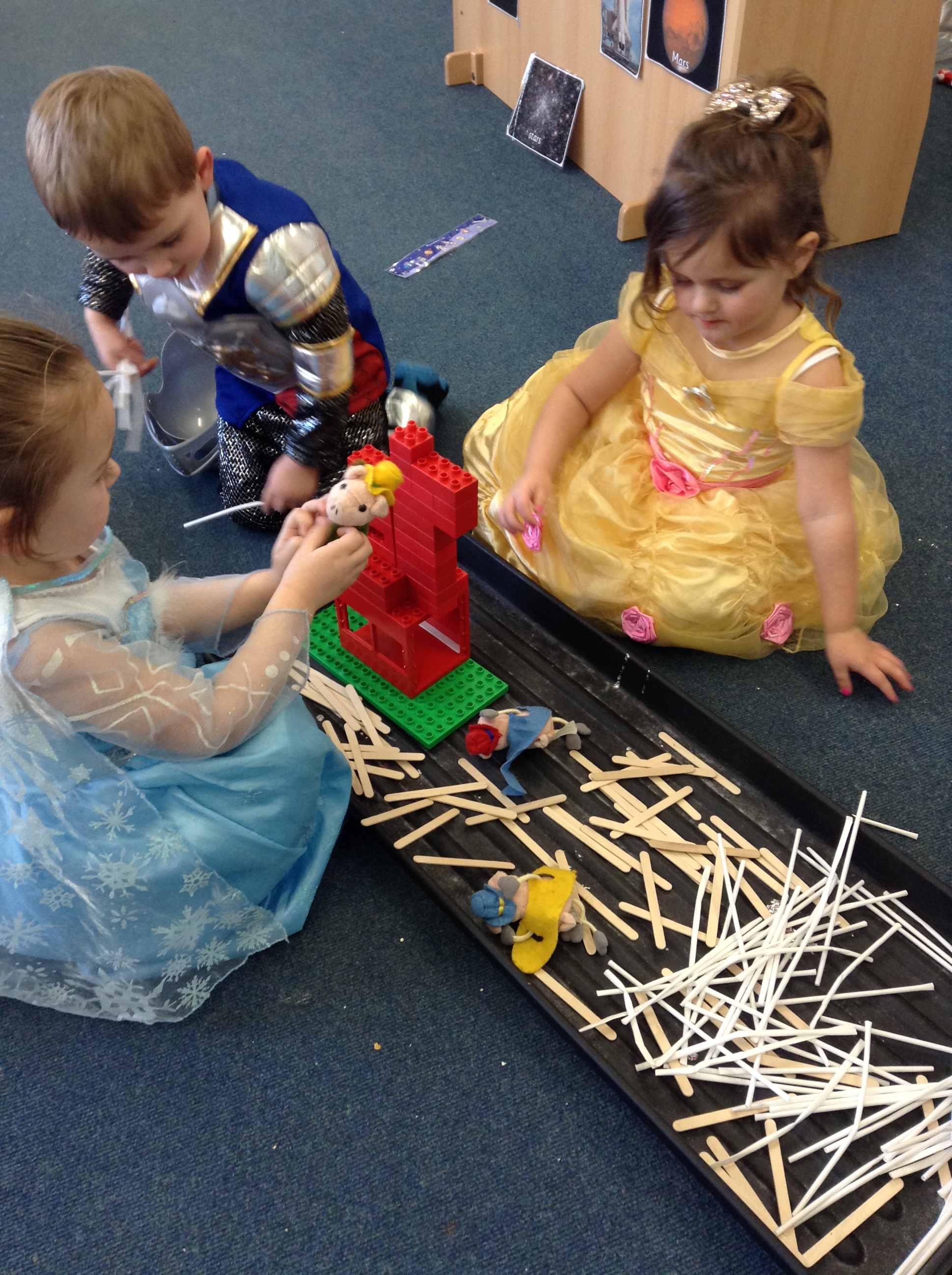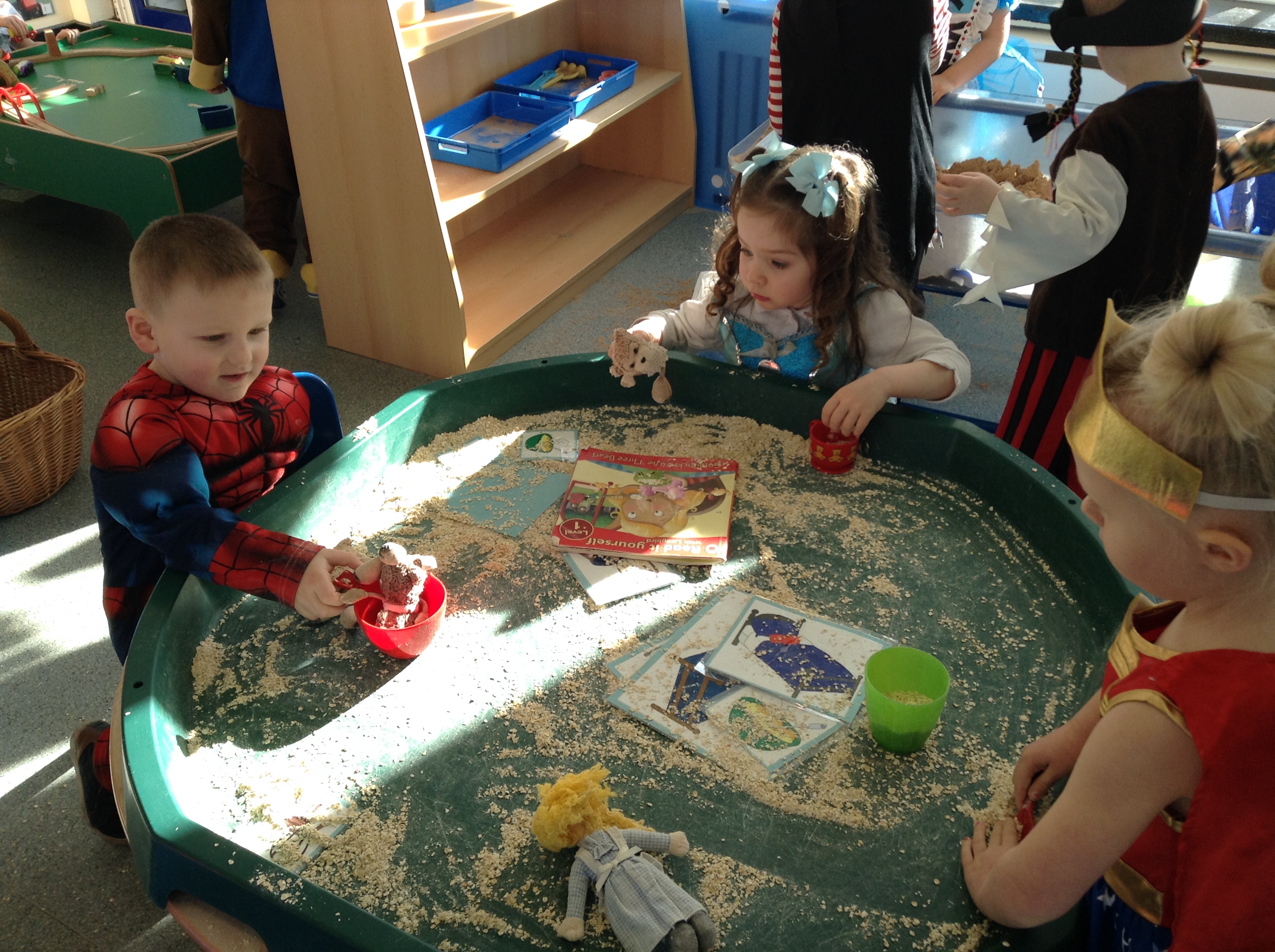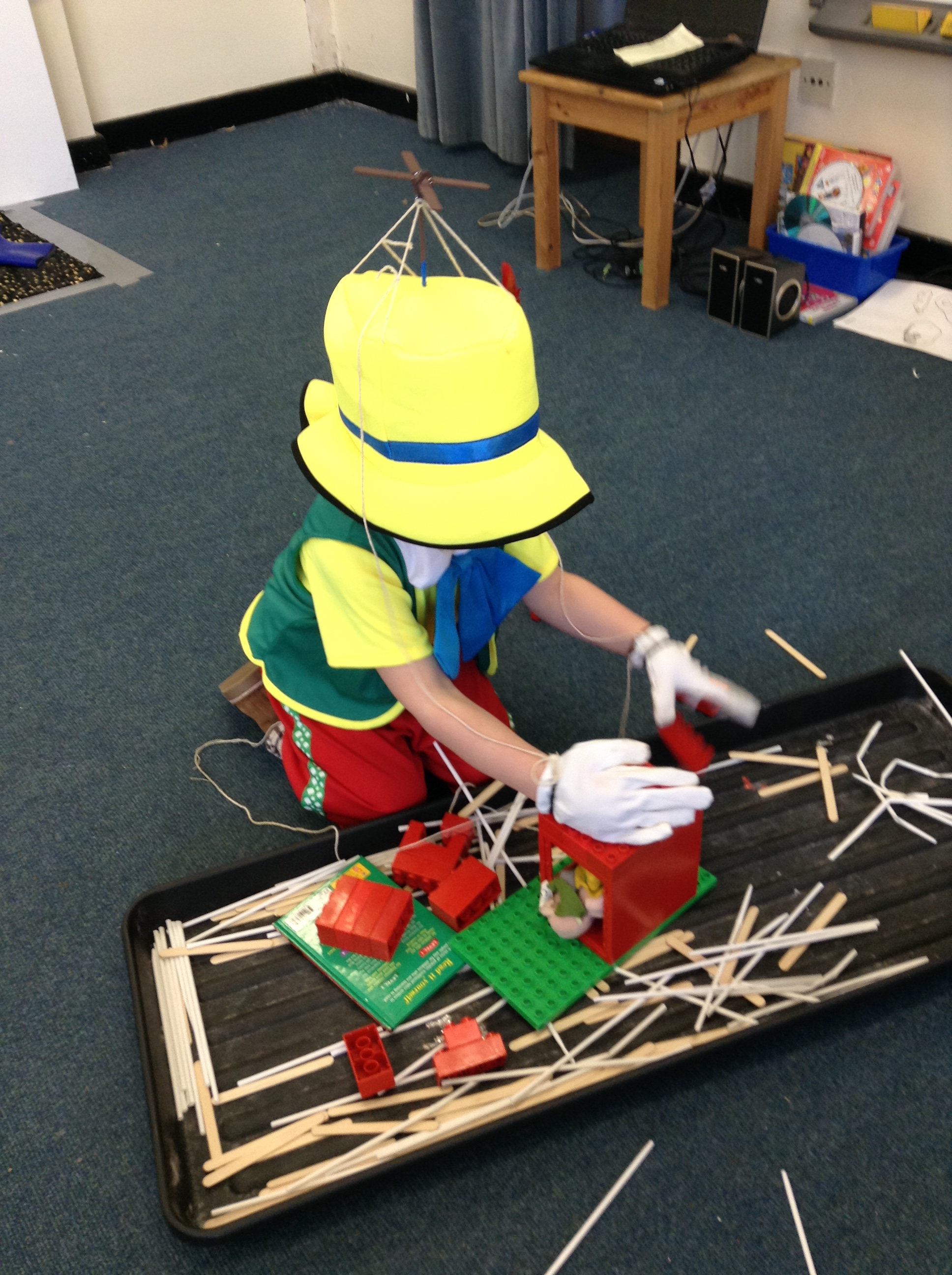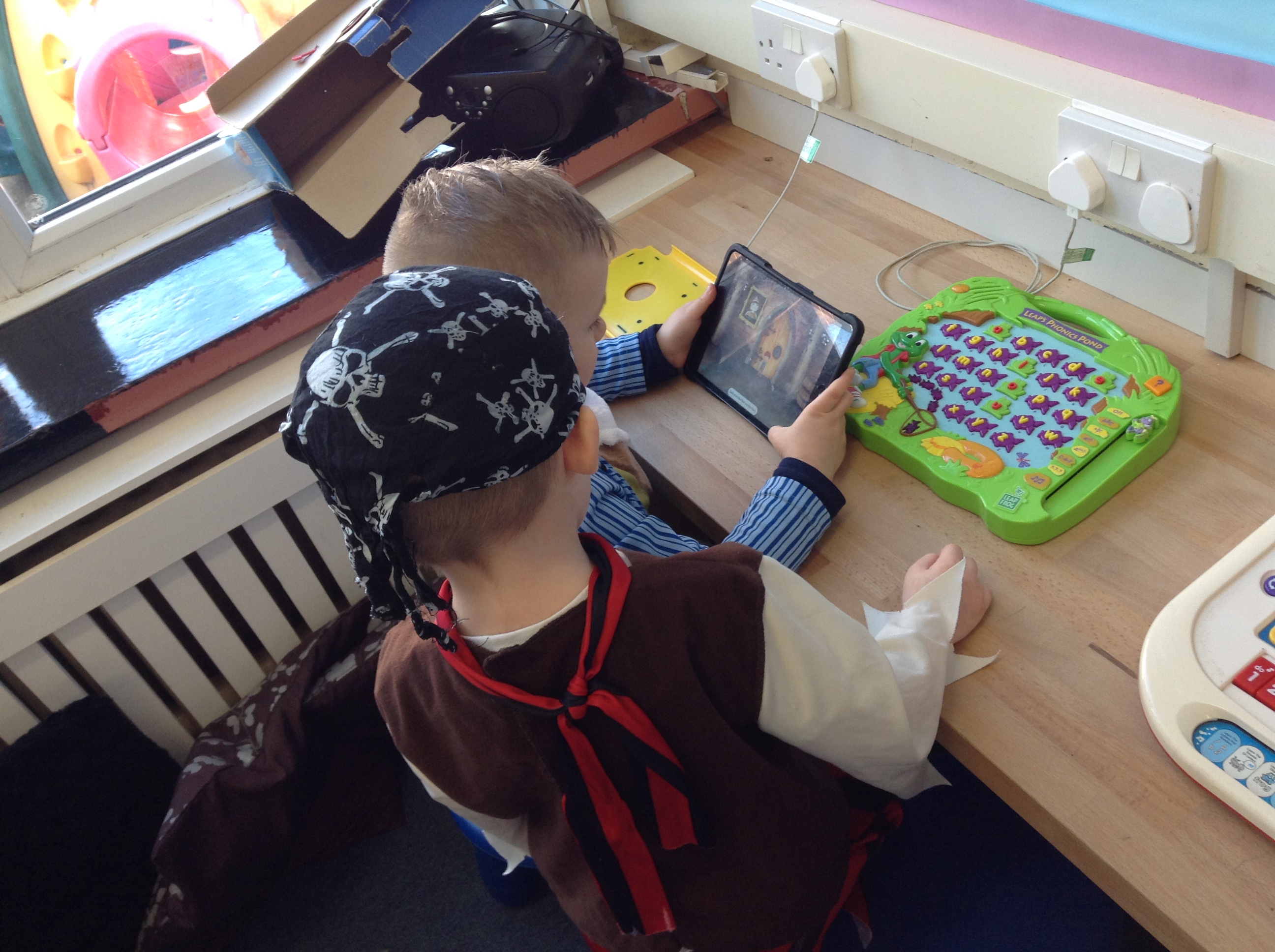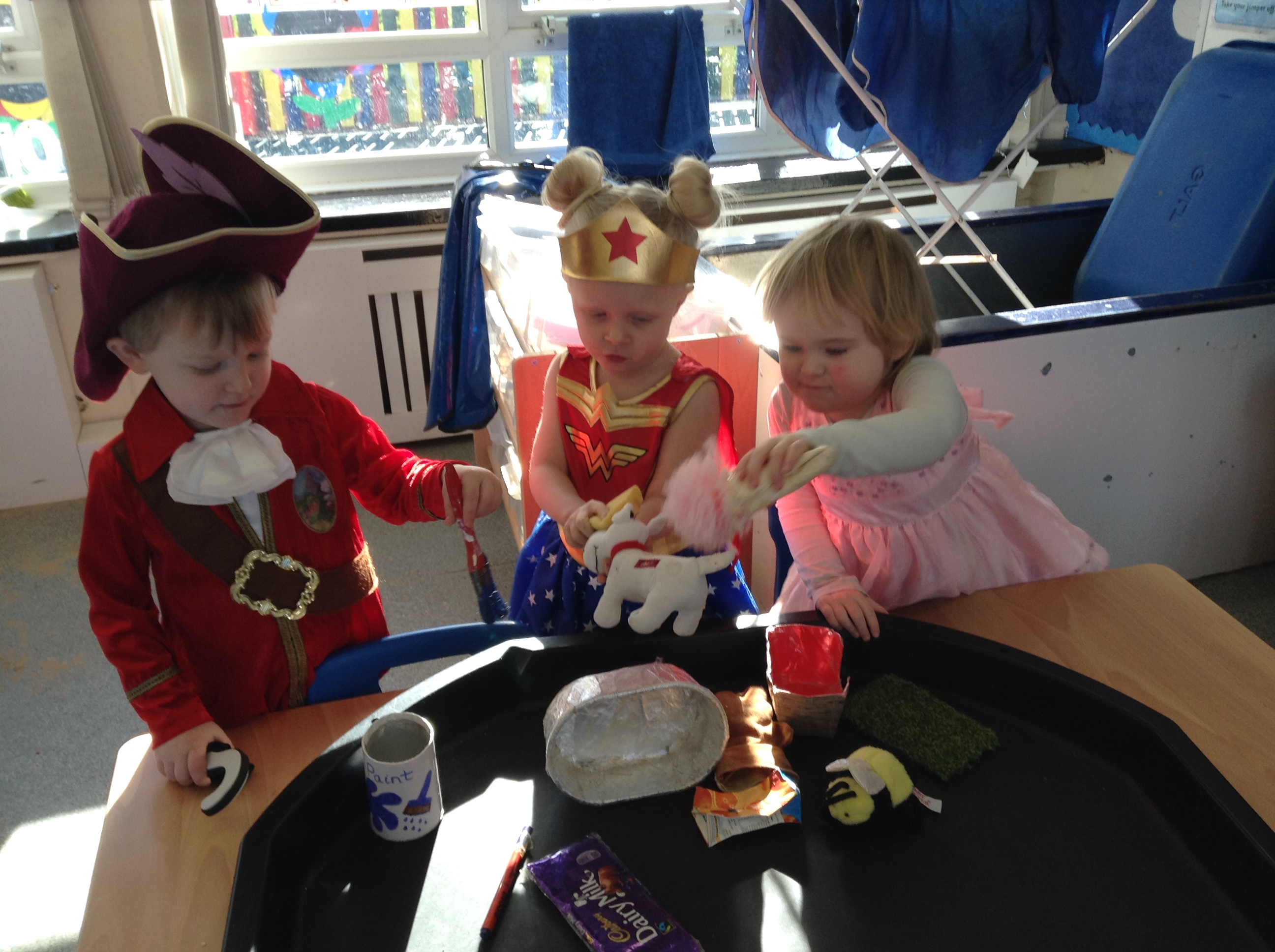 We really enjoyed our rhyme time challenge session with our parents / carers. Thank you for coming to join us!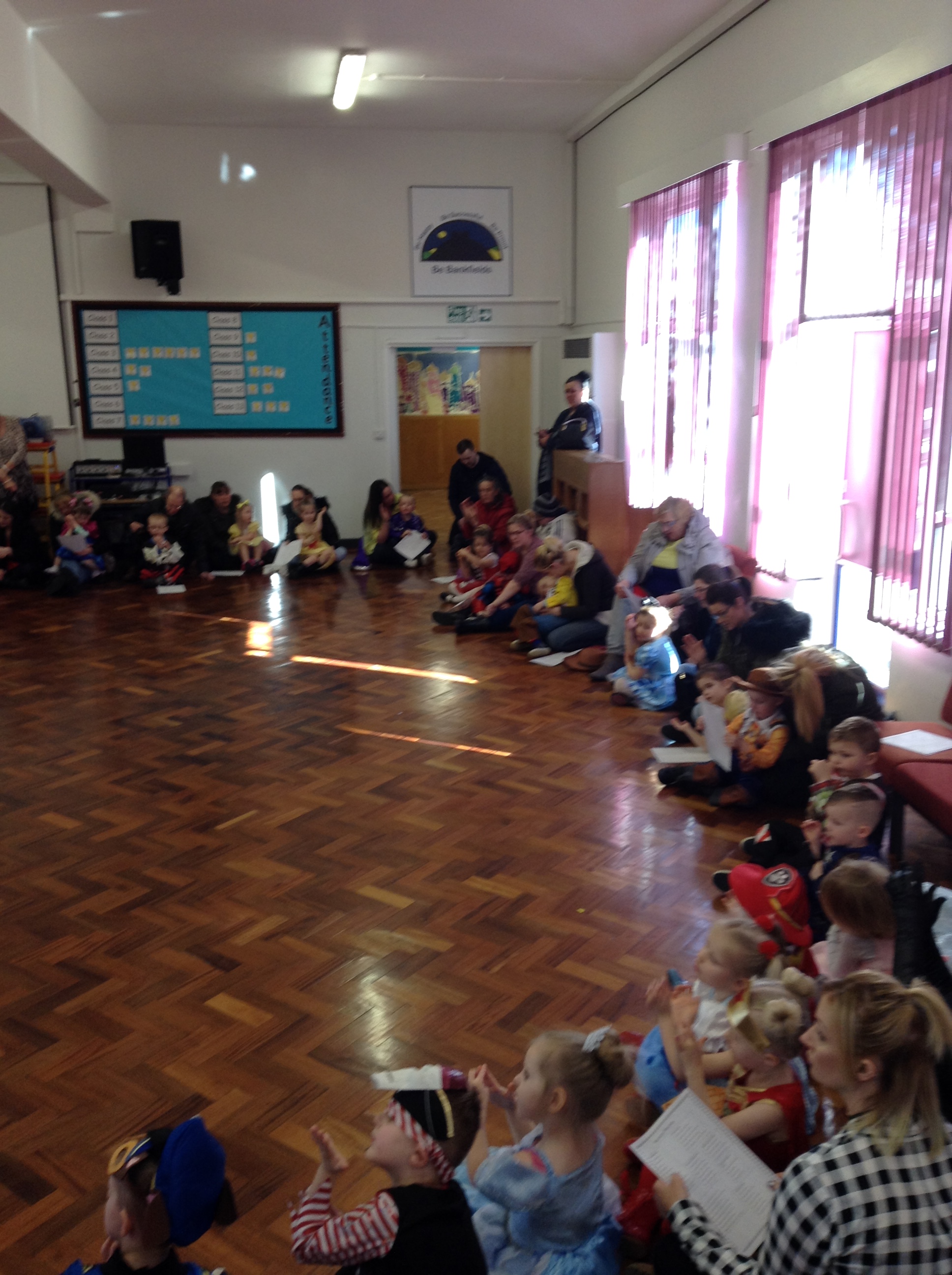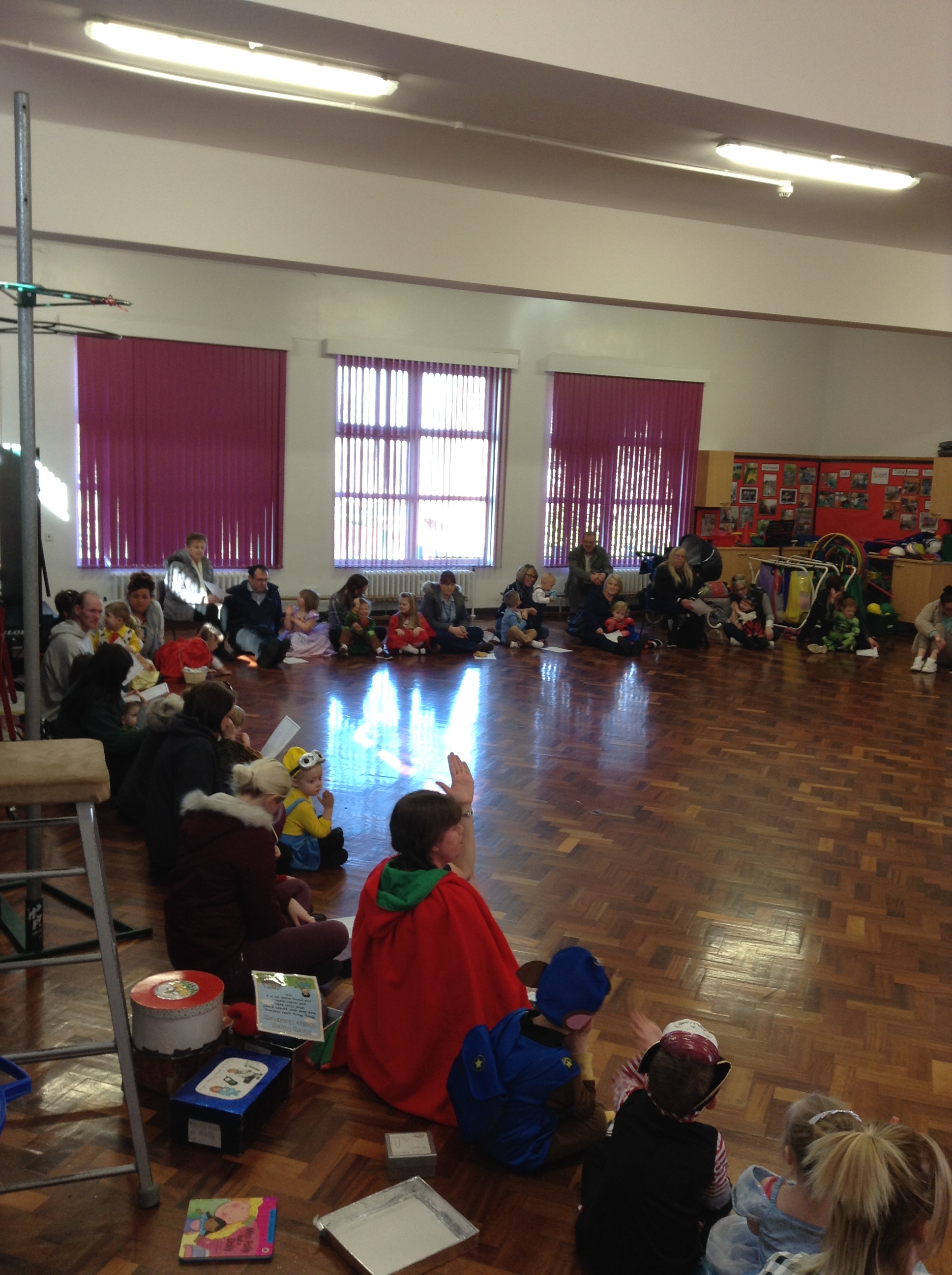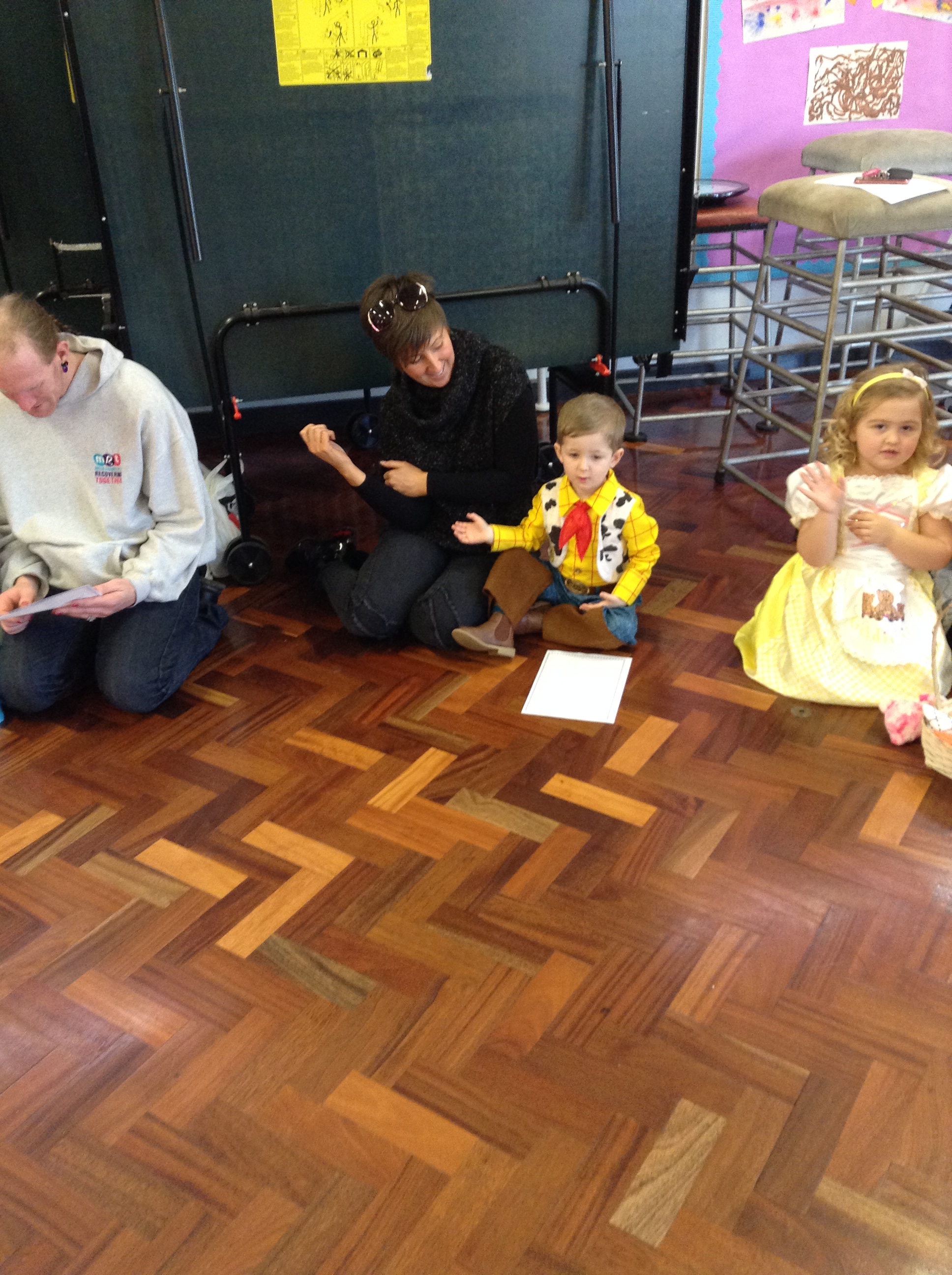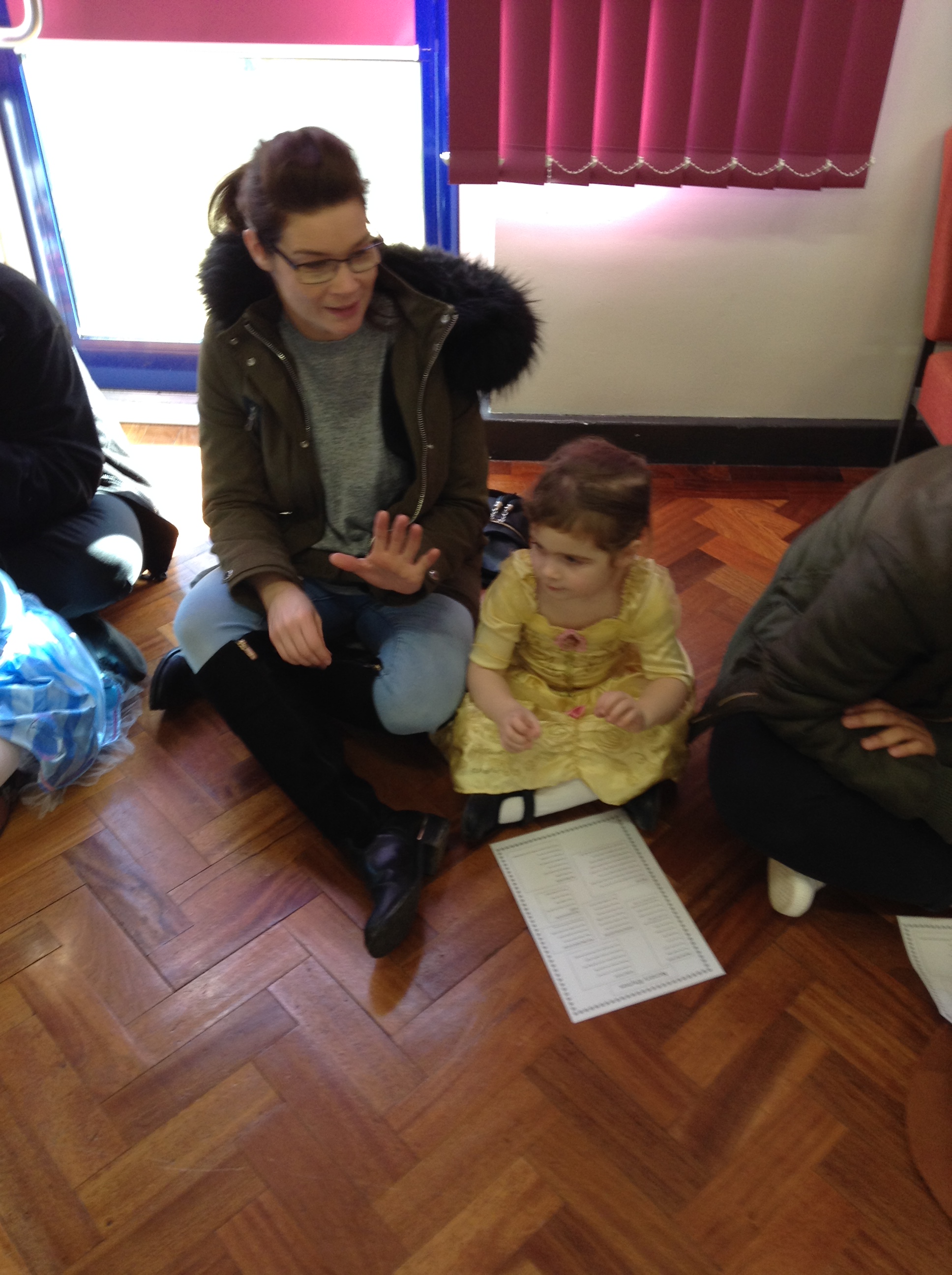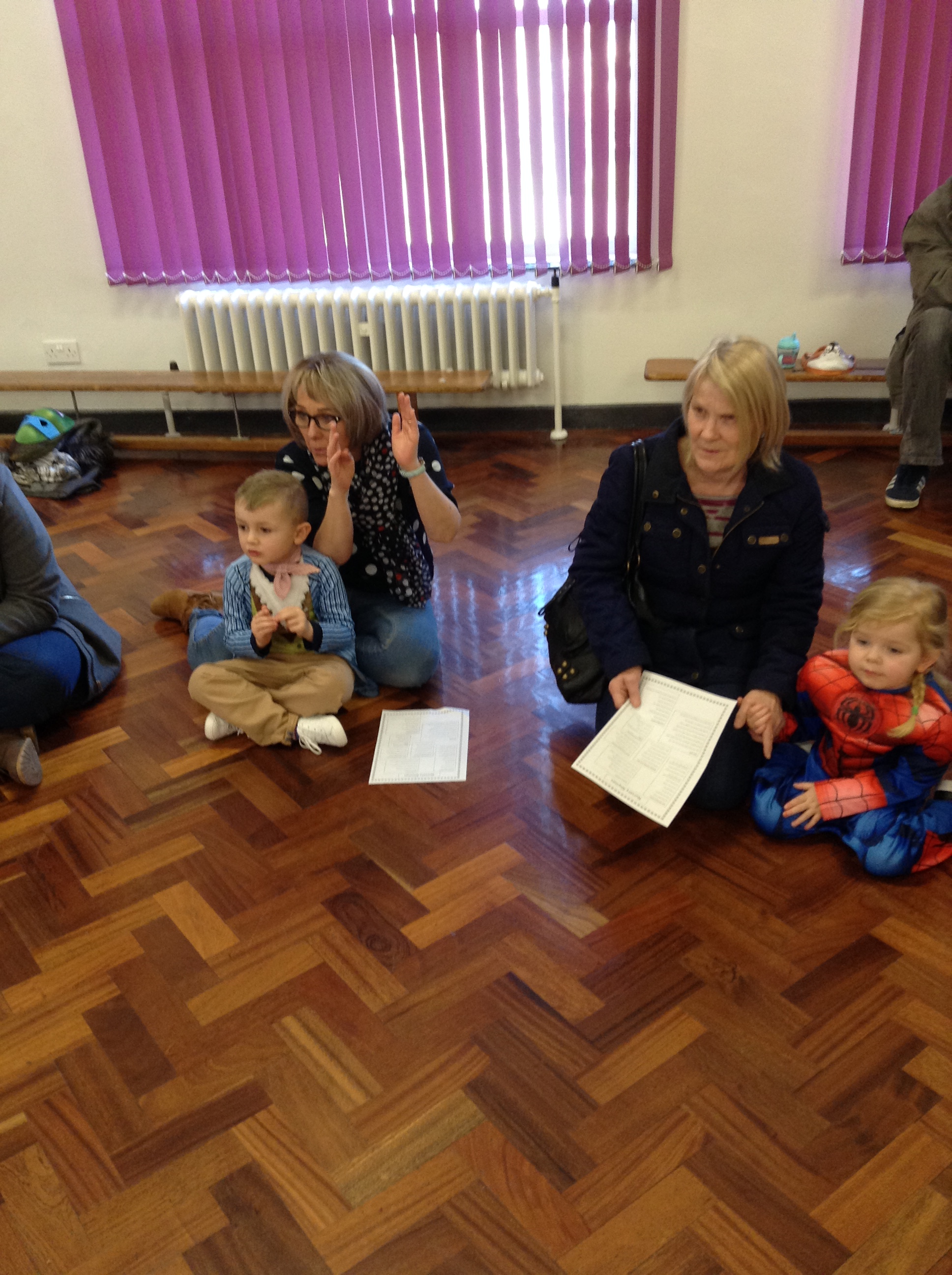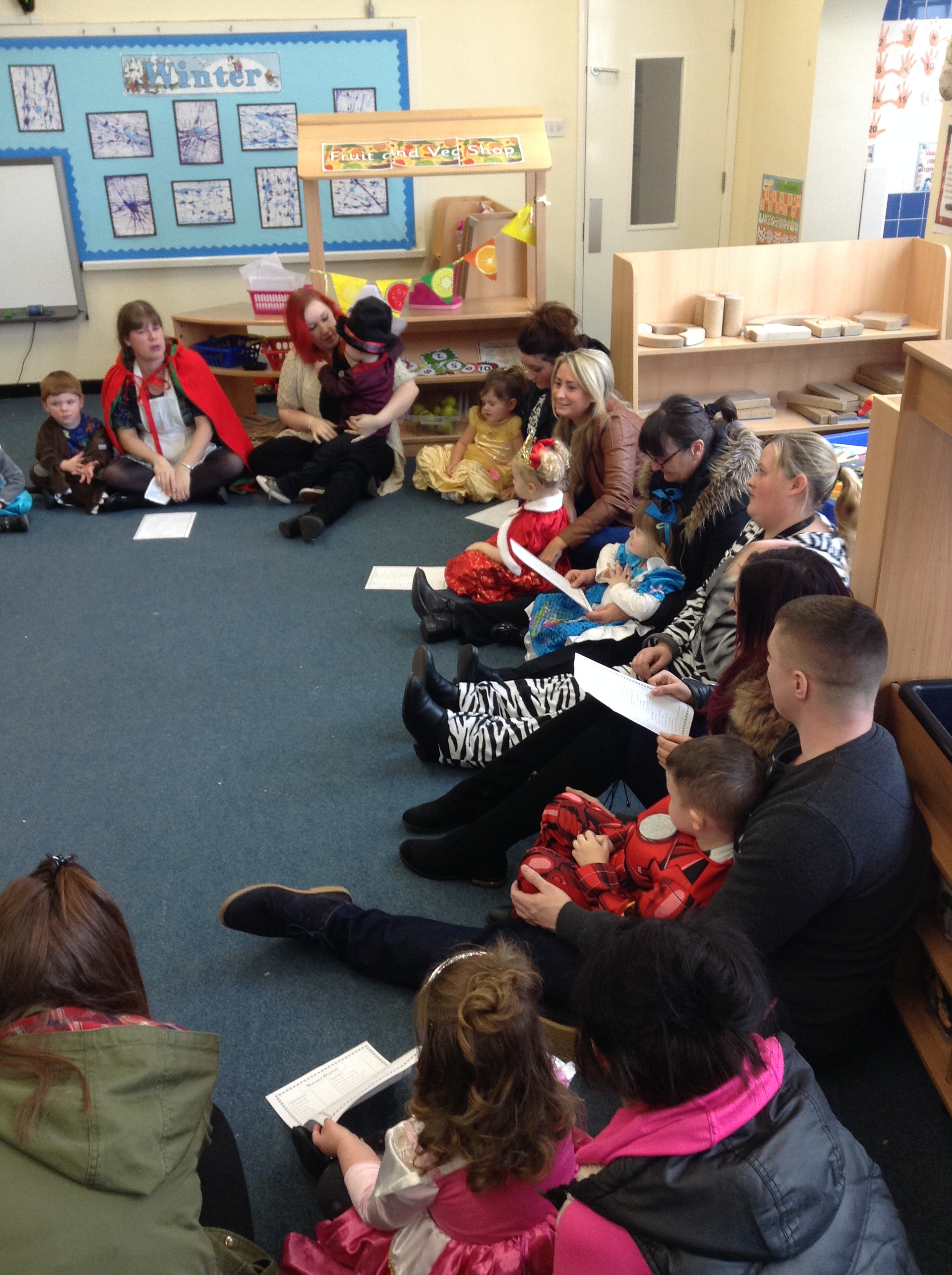 St. David's Day – 1st March 2017
We watched a short film which showed us how Megan prepares for, and celebrates St. David's Day, the feast day of St. David, the patron saint of Wales. We did some wonderful observational drawings of daffodils. We also tried some leek and potato soup and welsh cakes at snack time today.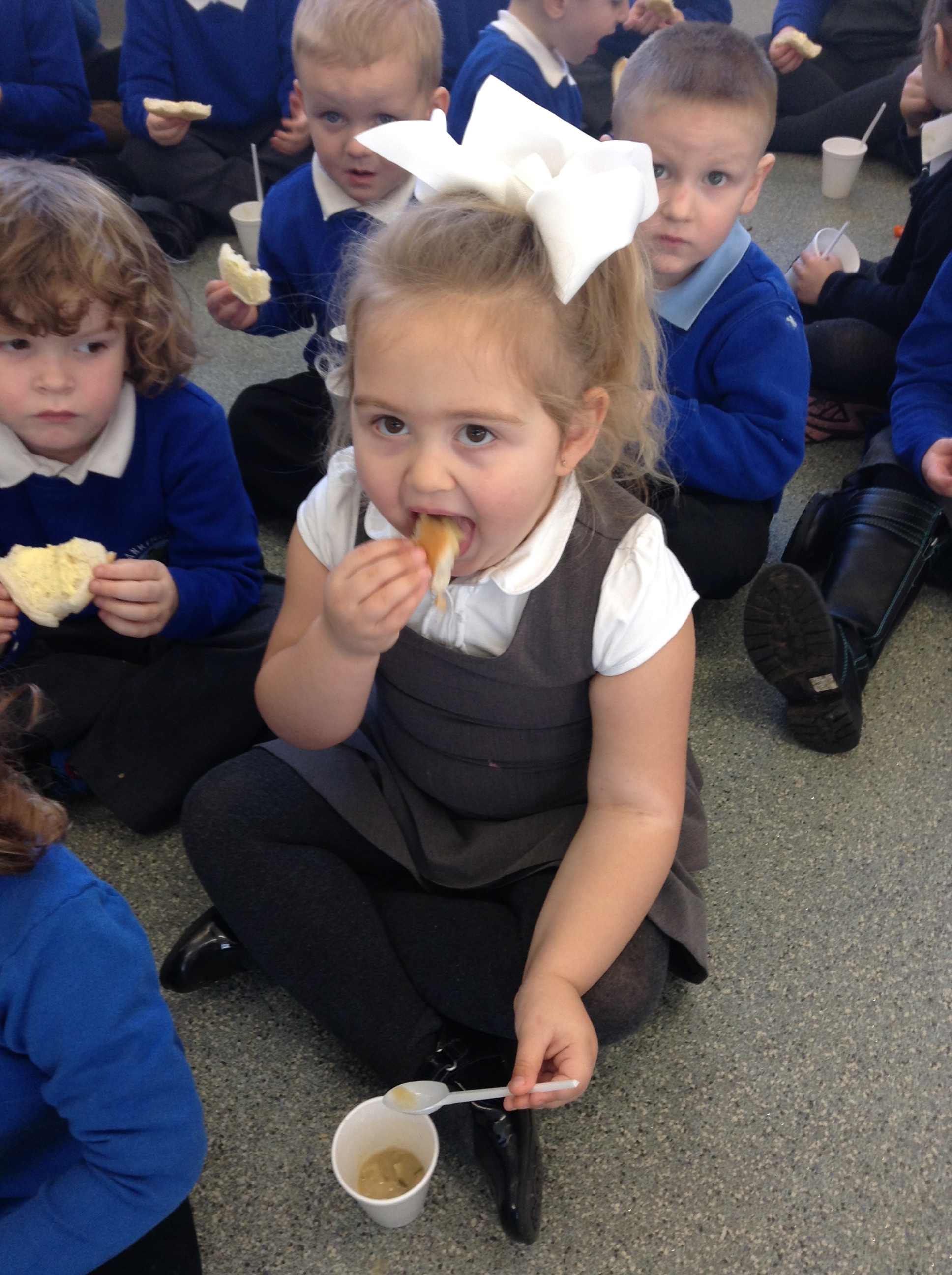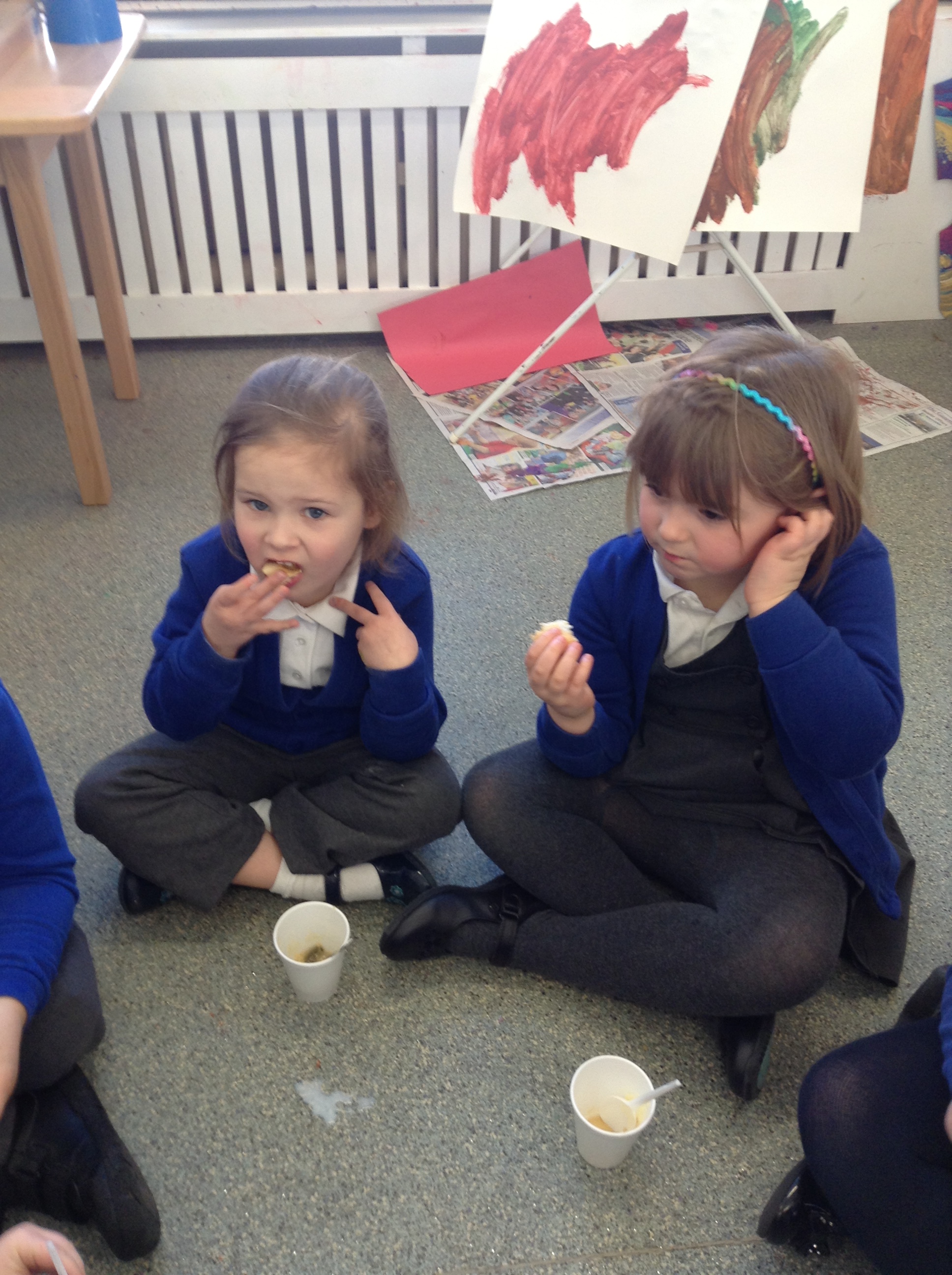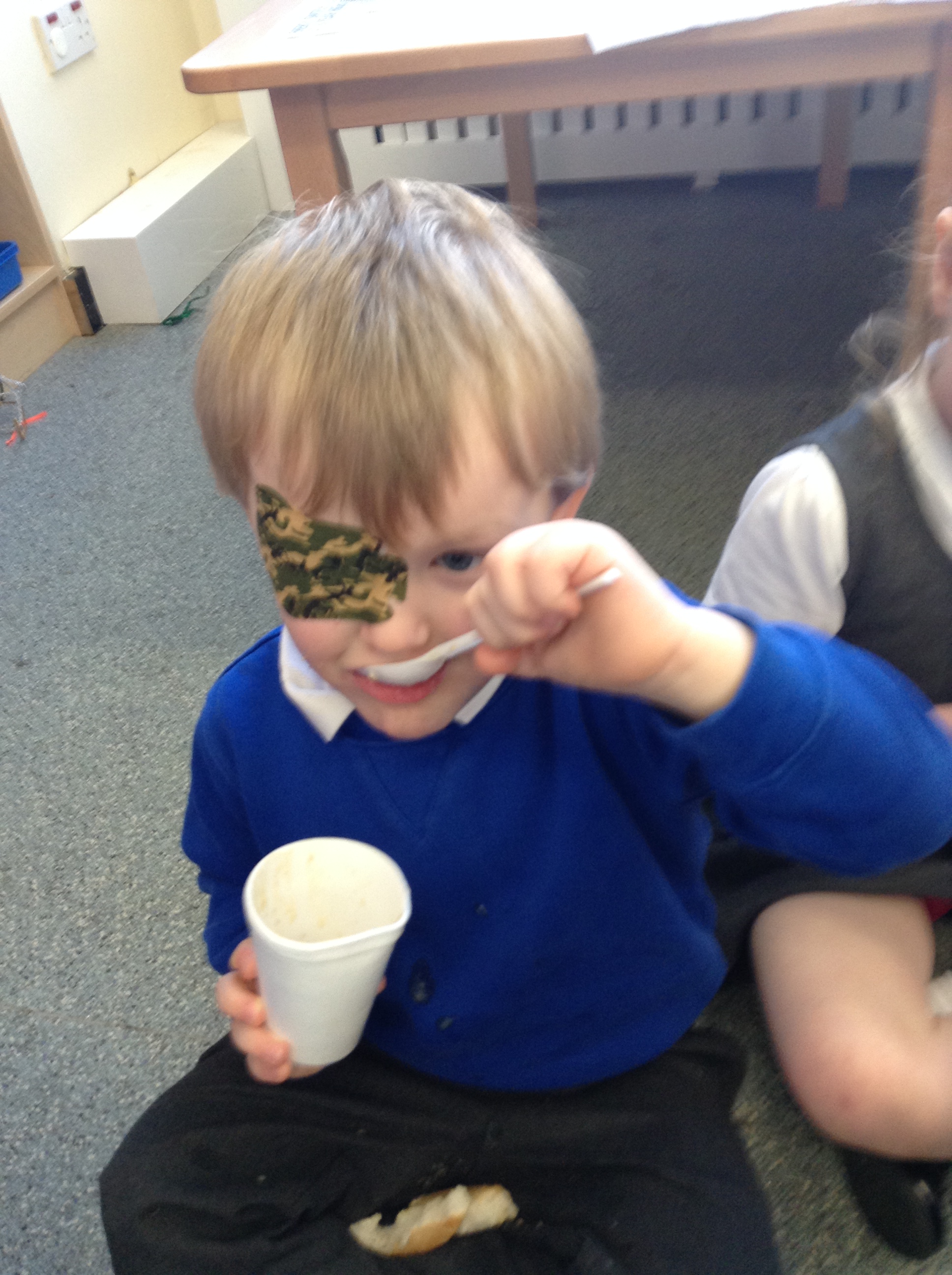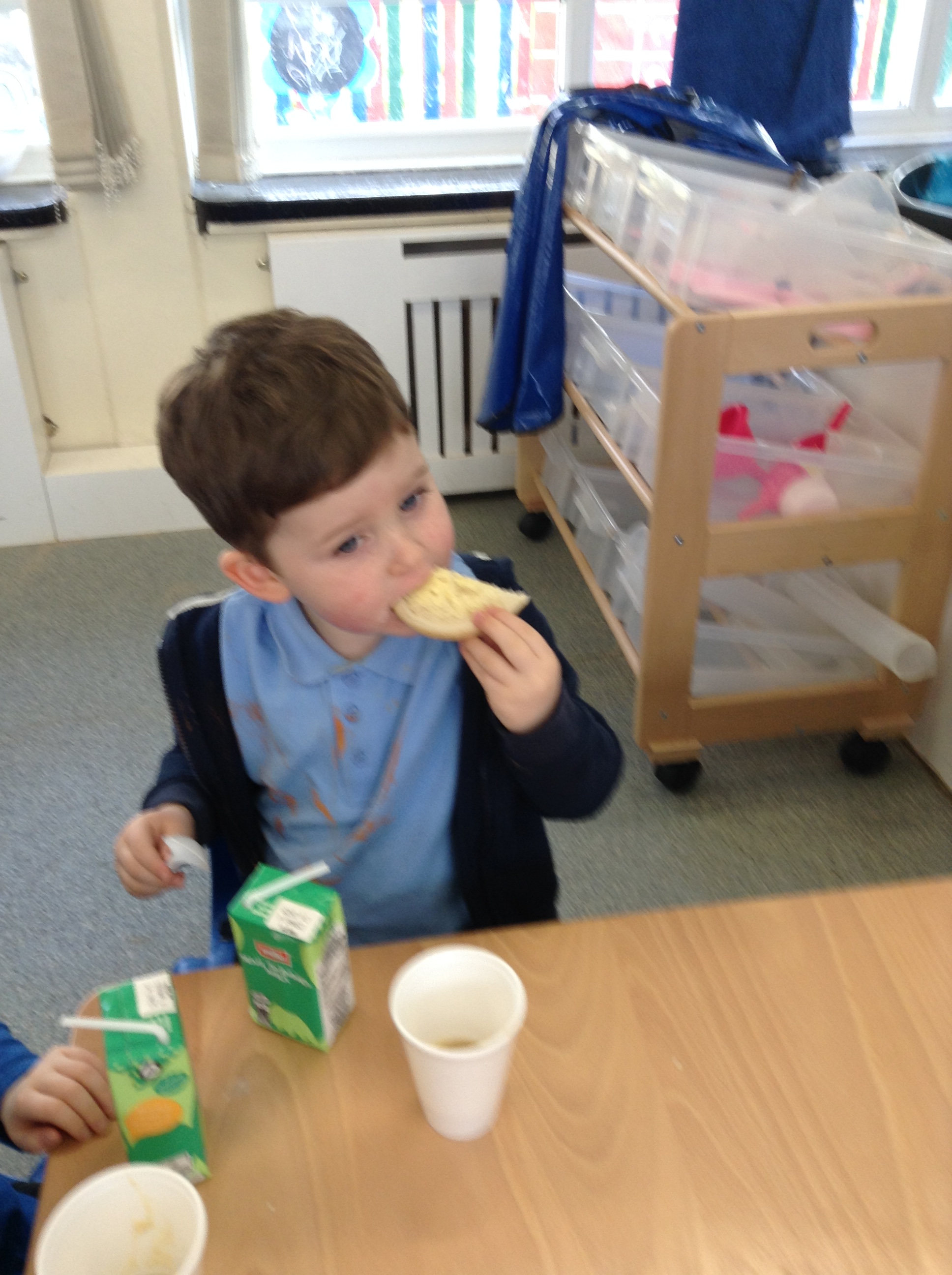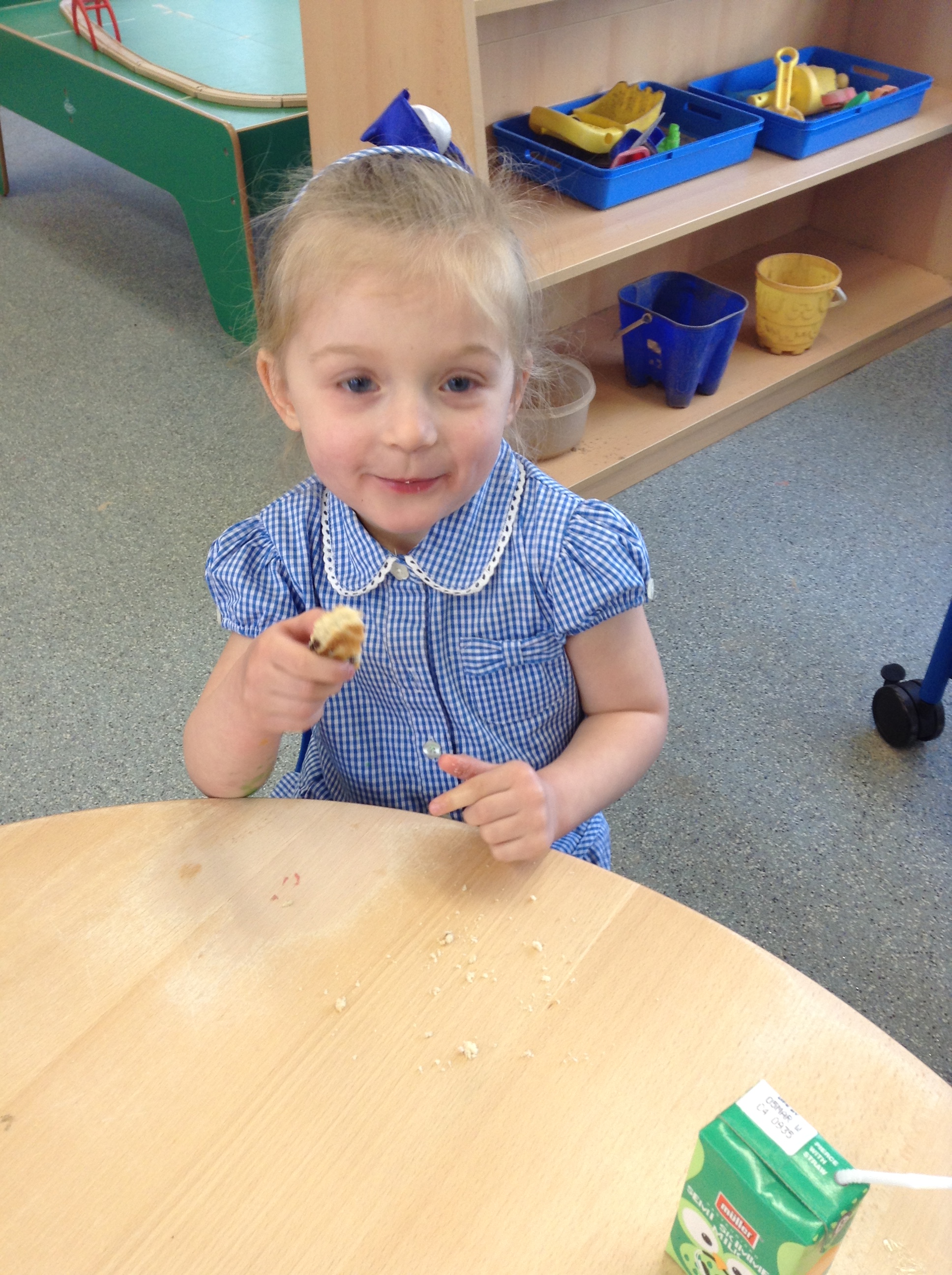 Shrove Tuesday – 28th February 2017
Guess what we have been busy making and eating today?!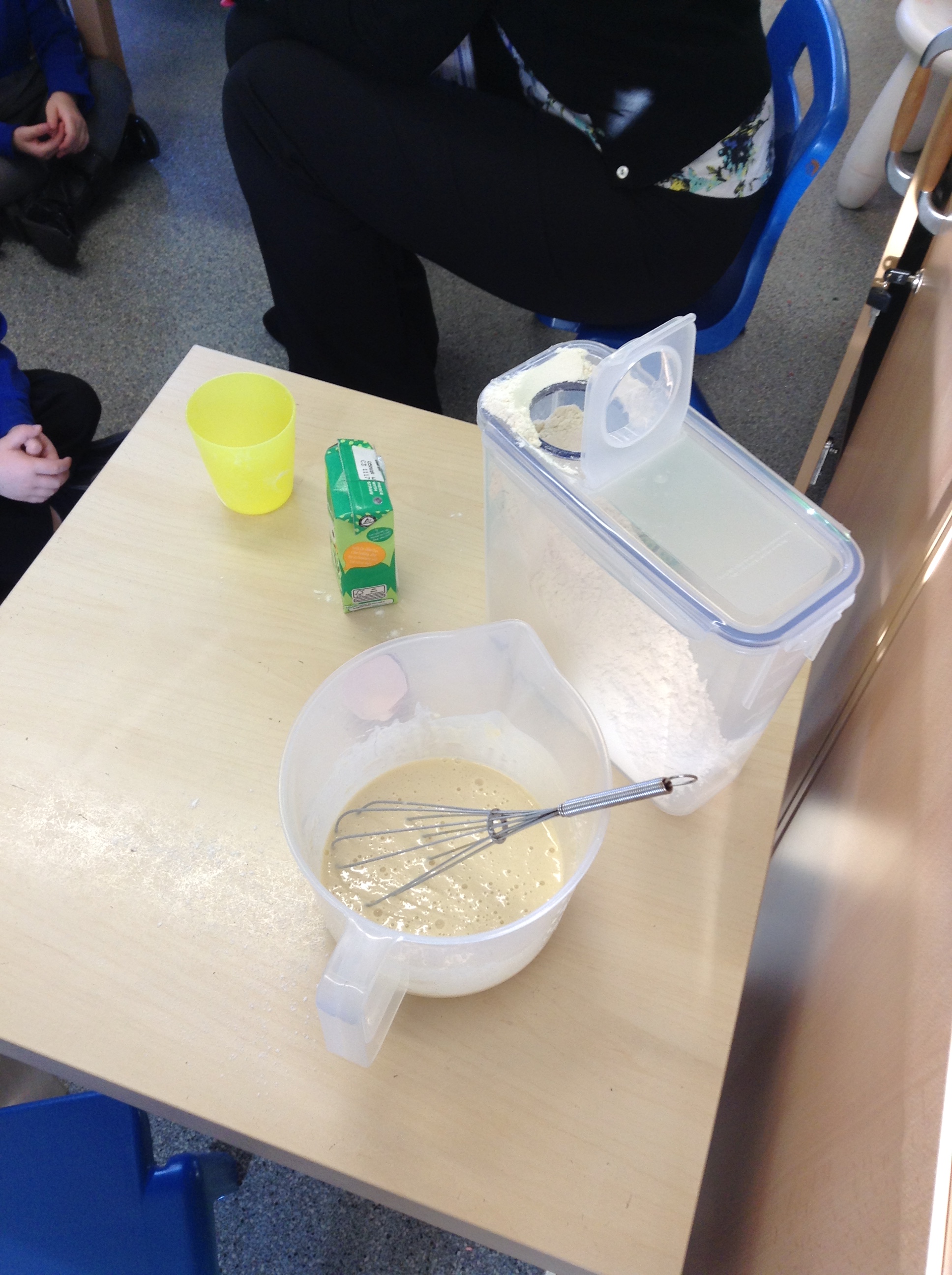 We have had a great time celebrating Shrove Tuesday! We have made and eaten pancakes, read pancake stories, taken part in a pancake race and even made our own pretend pancakes. What a busy day!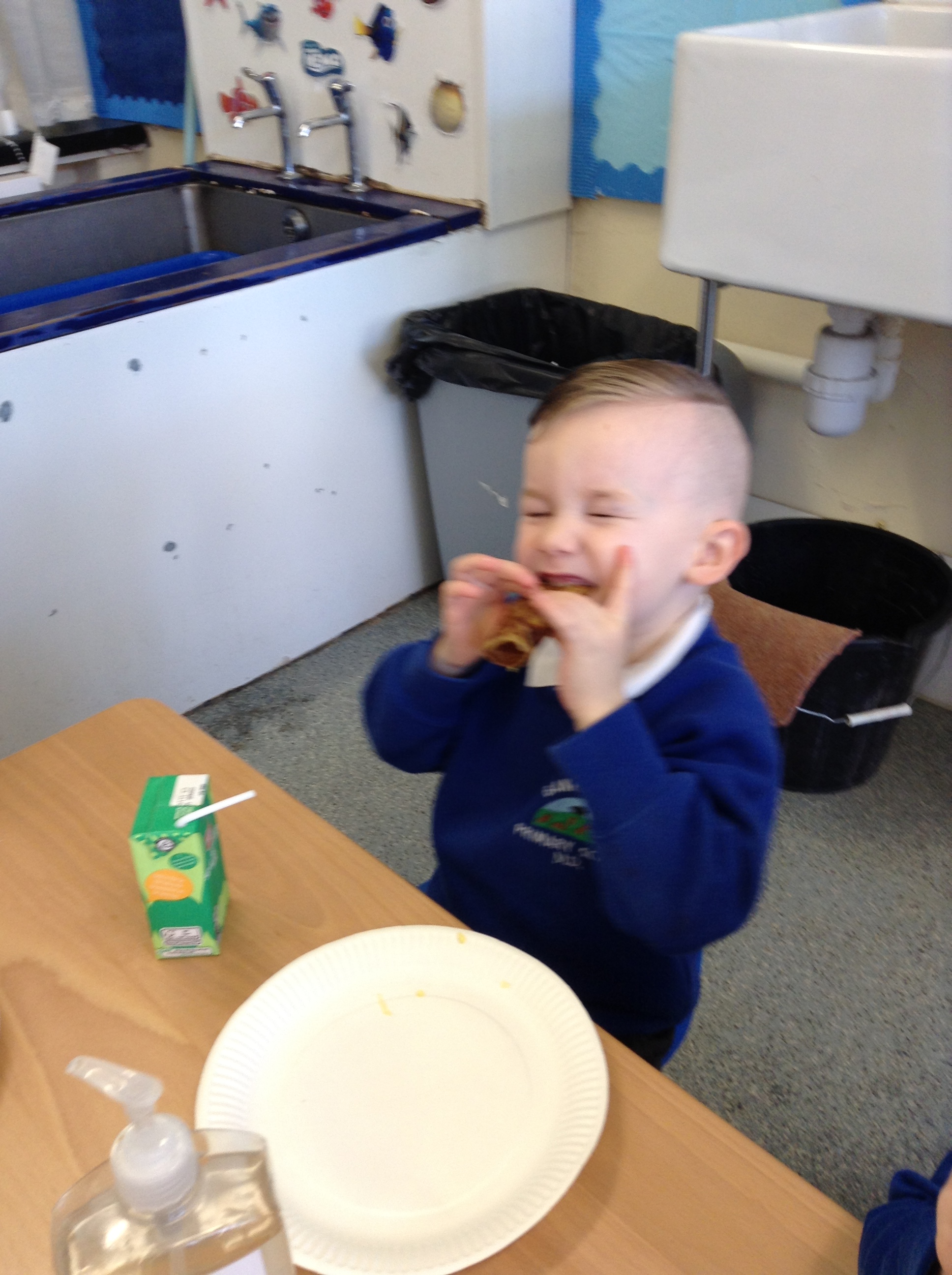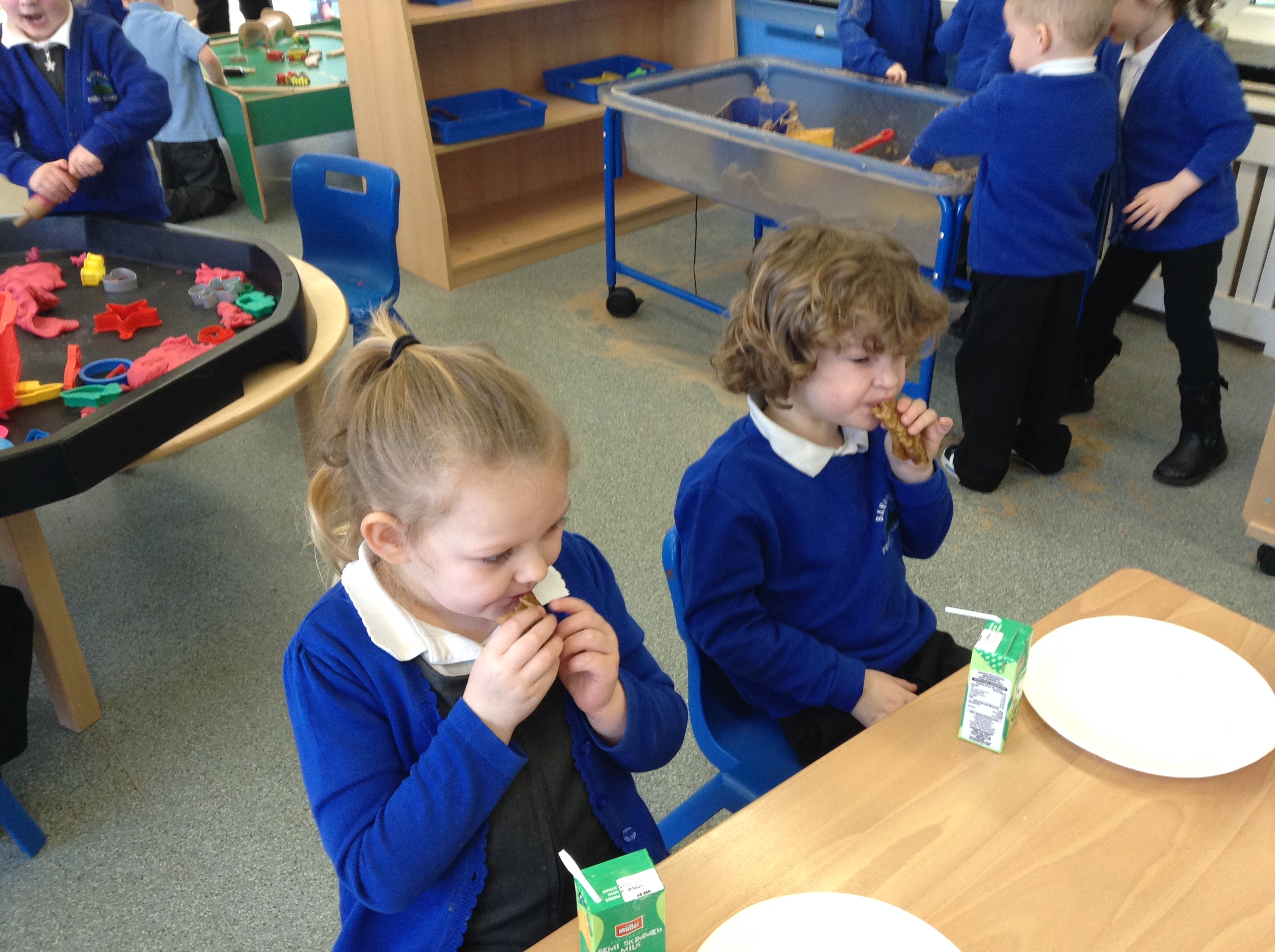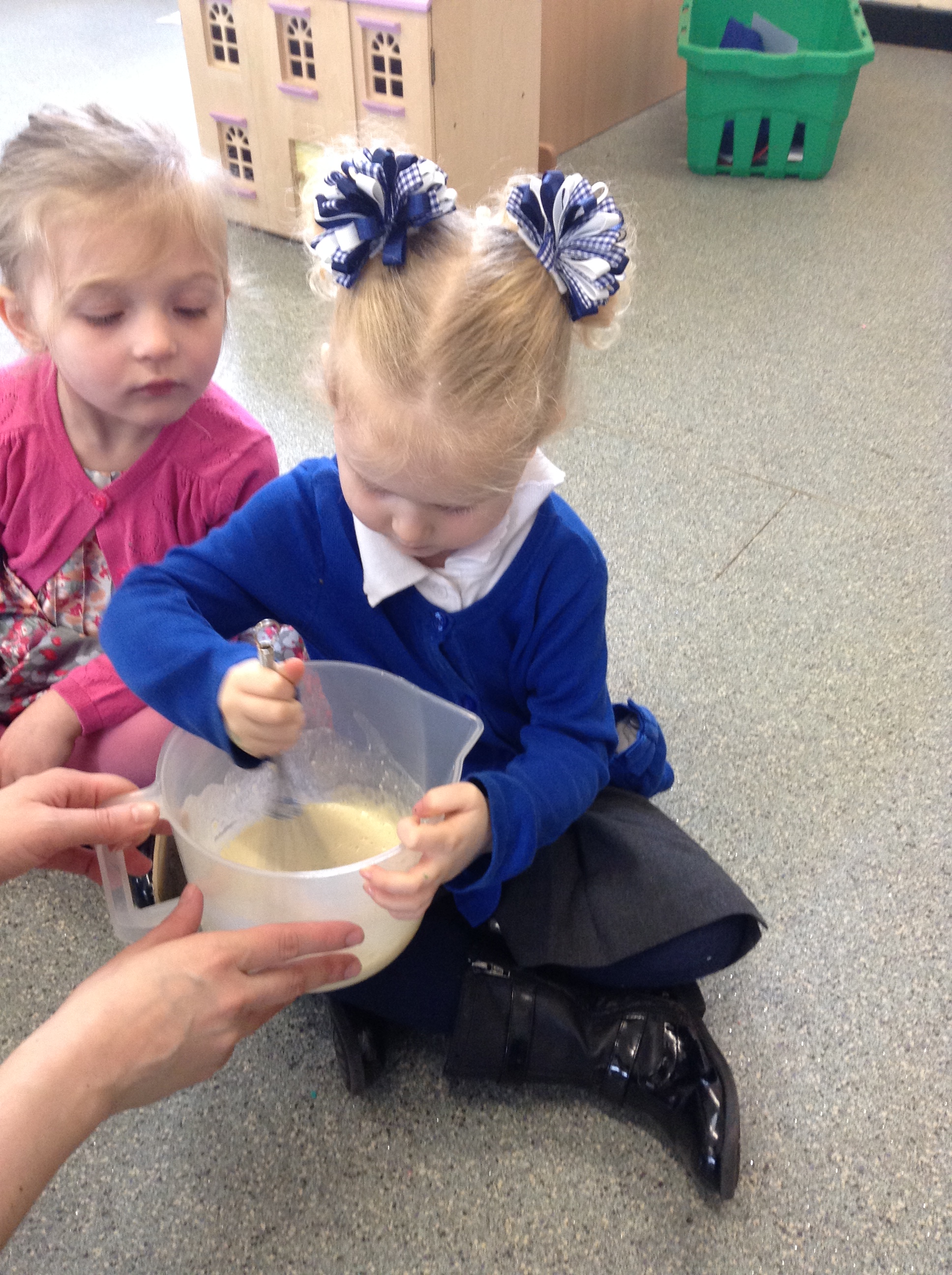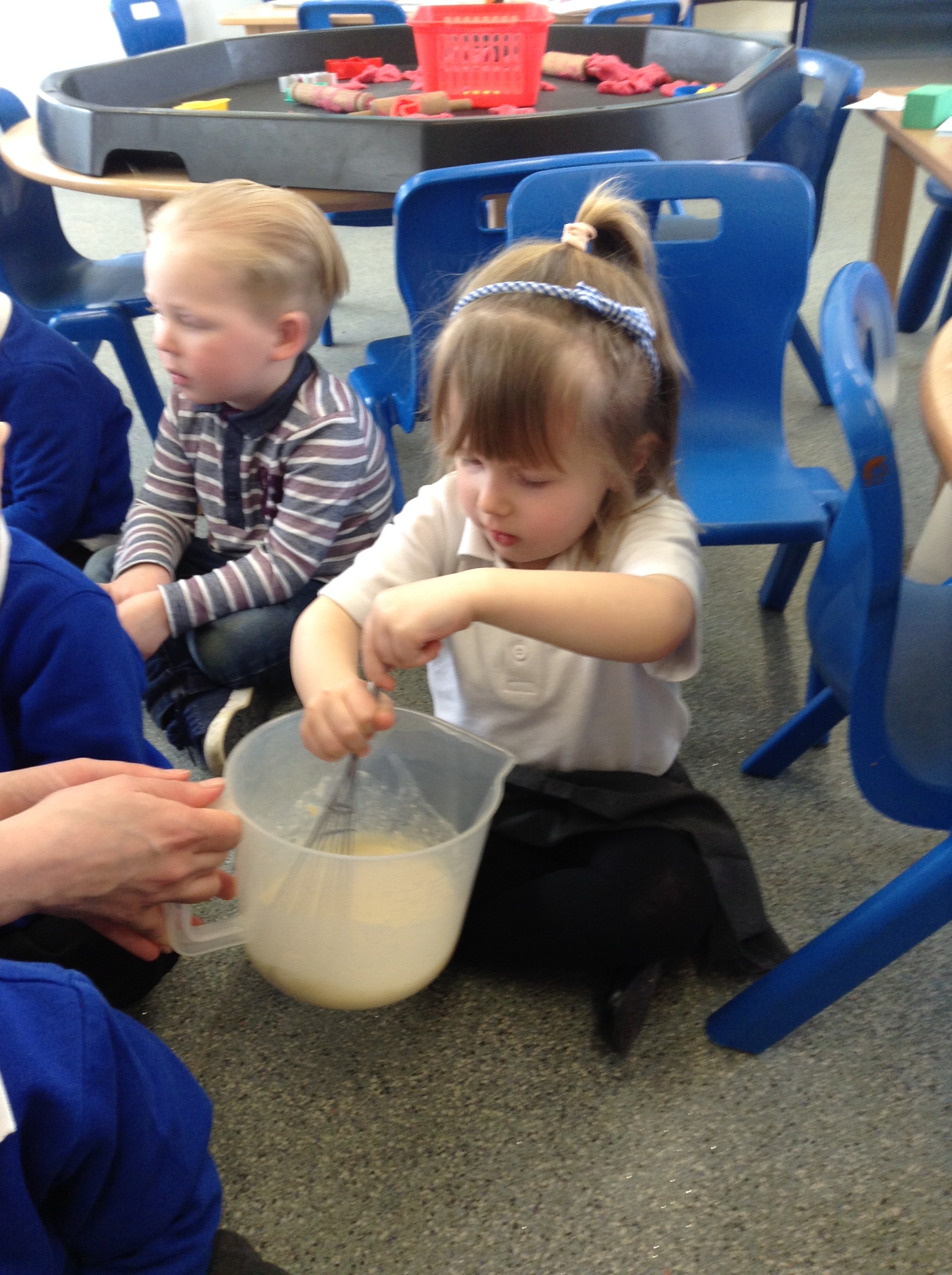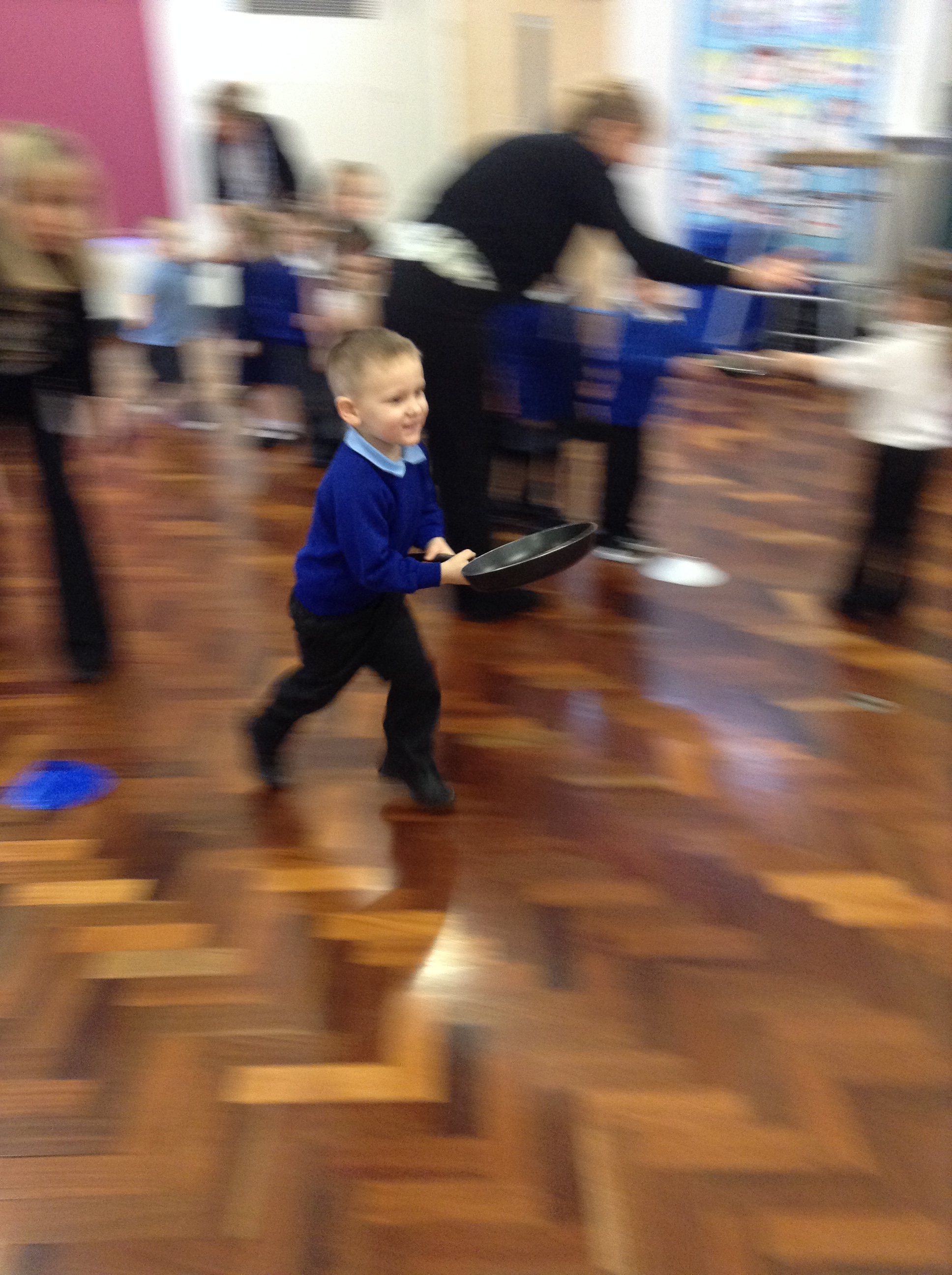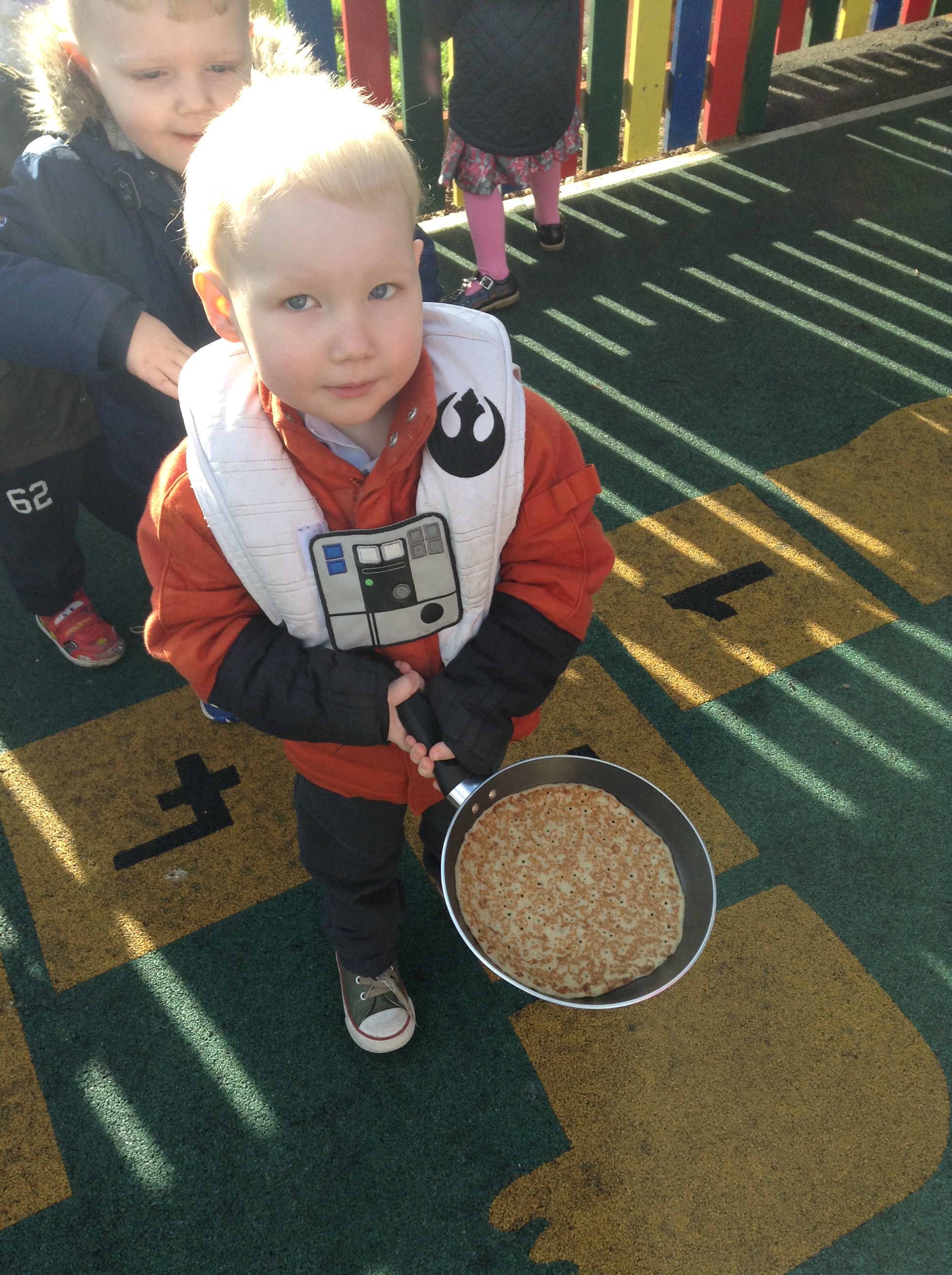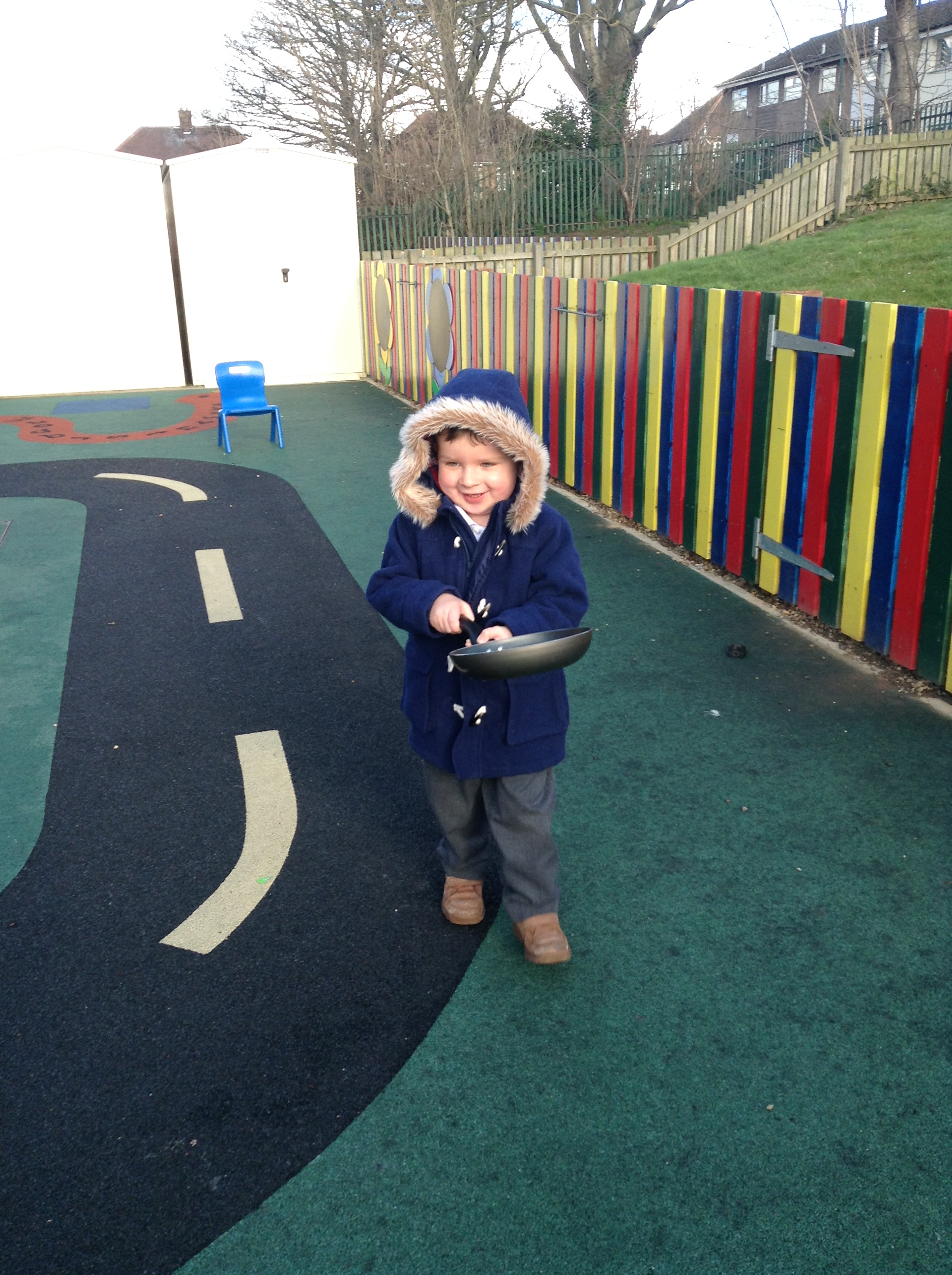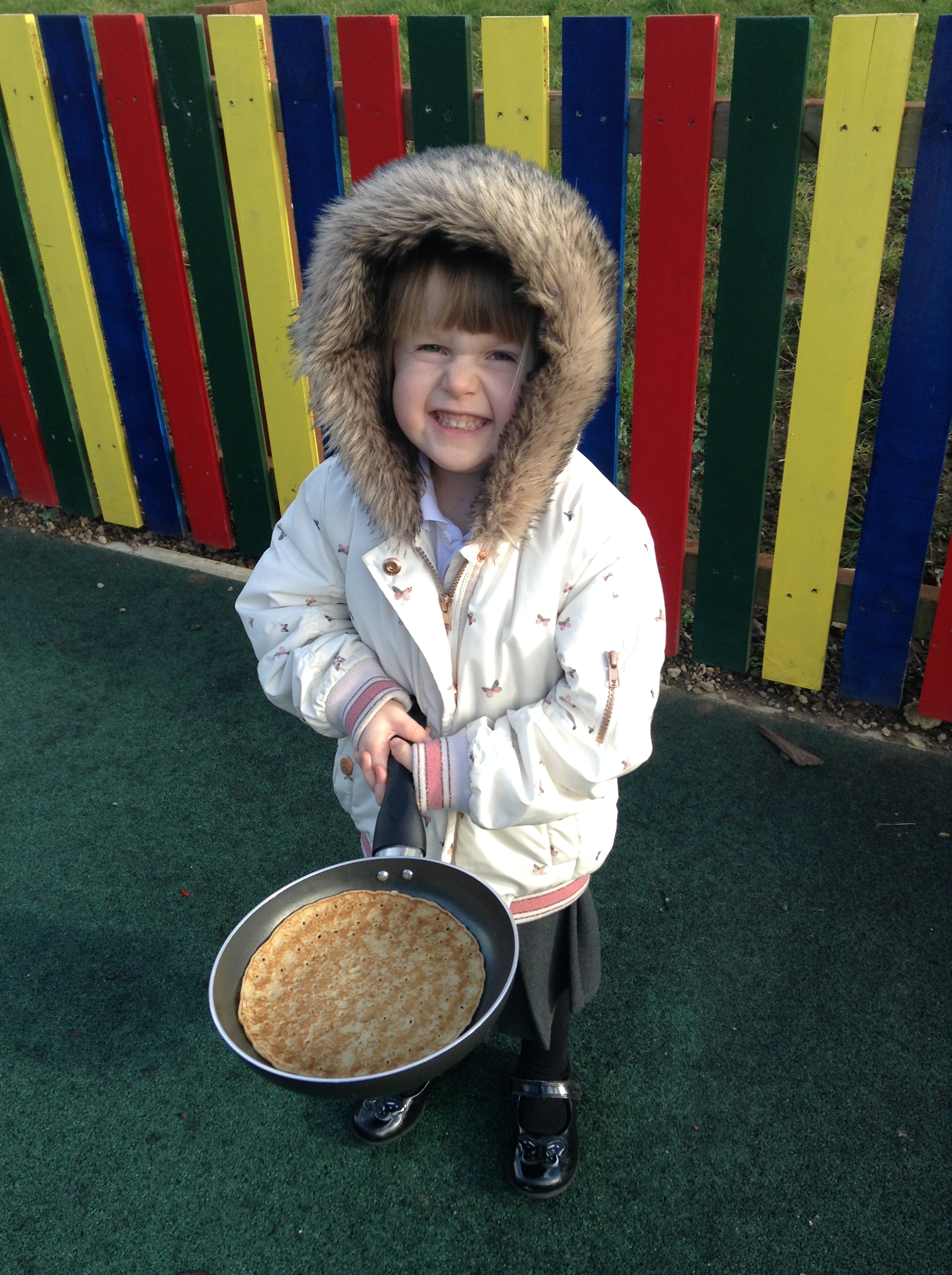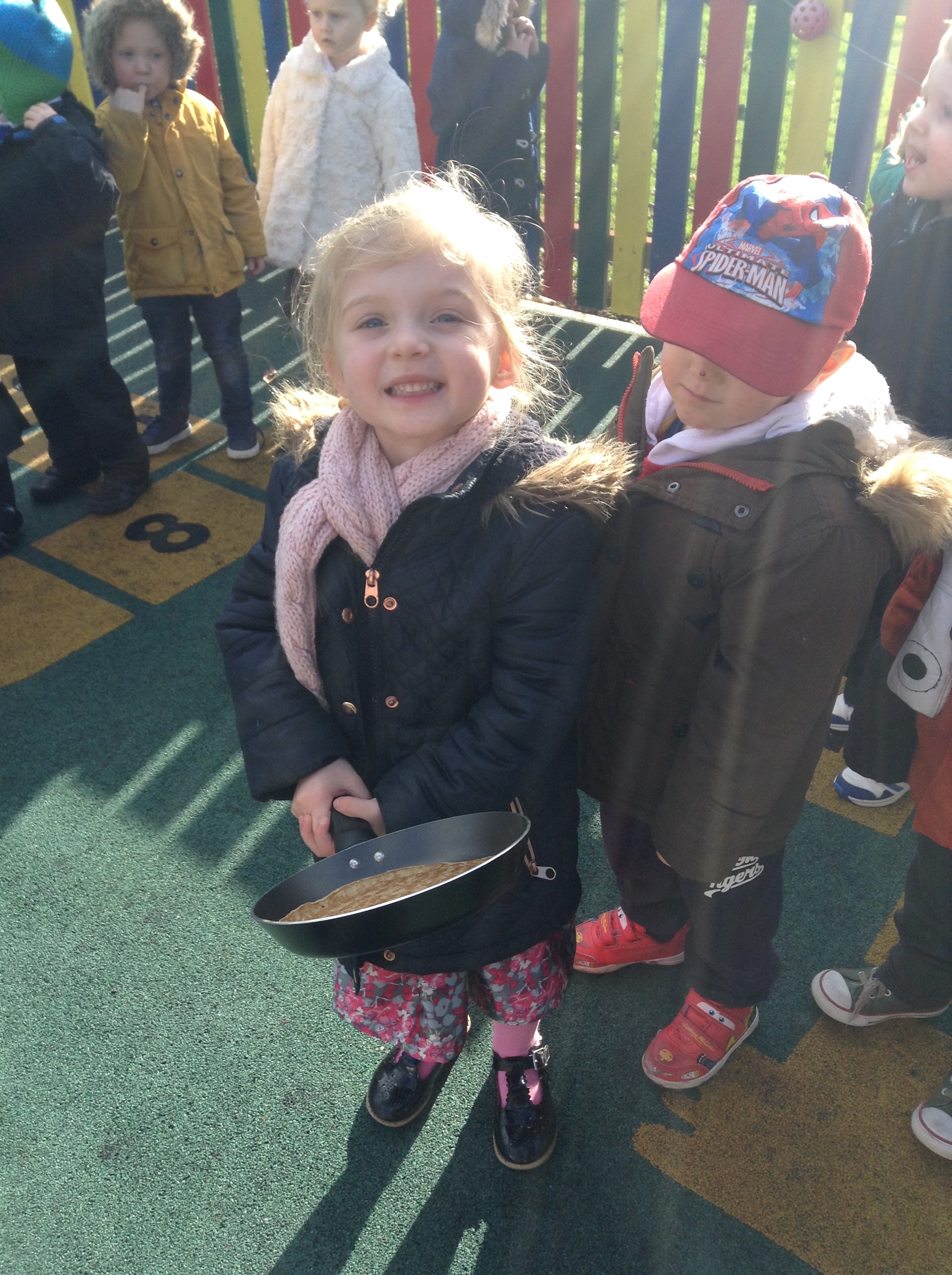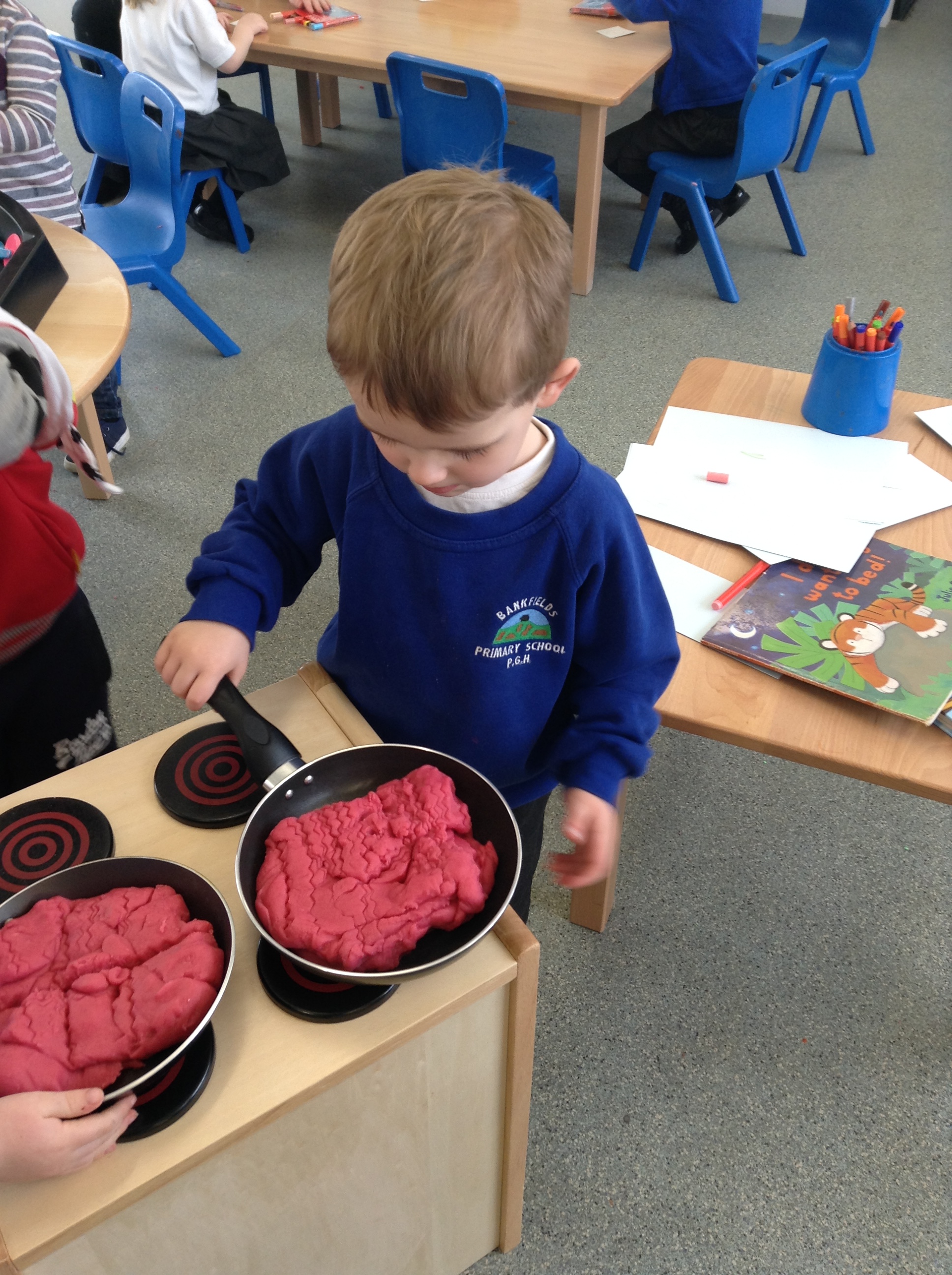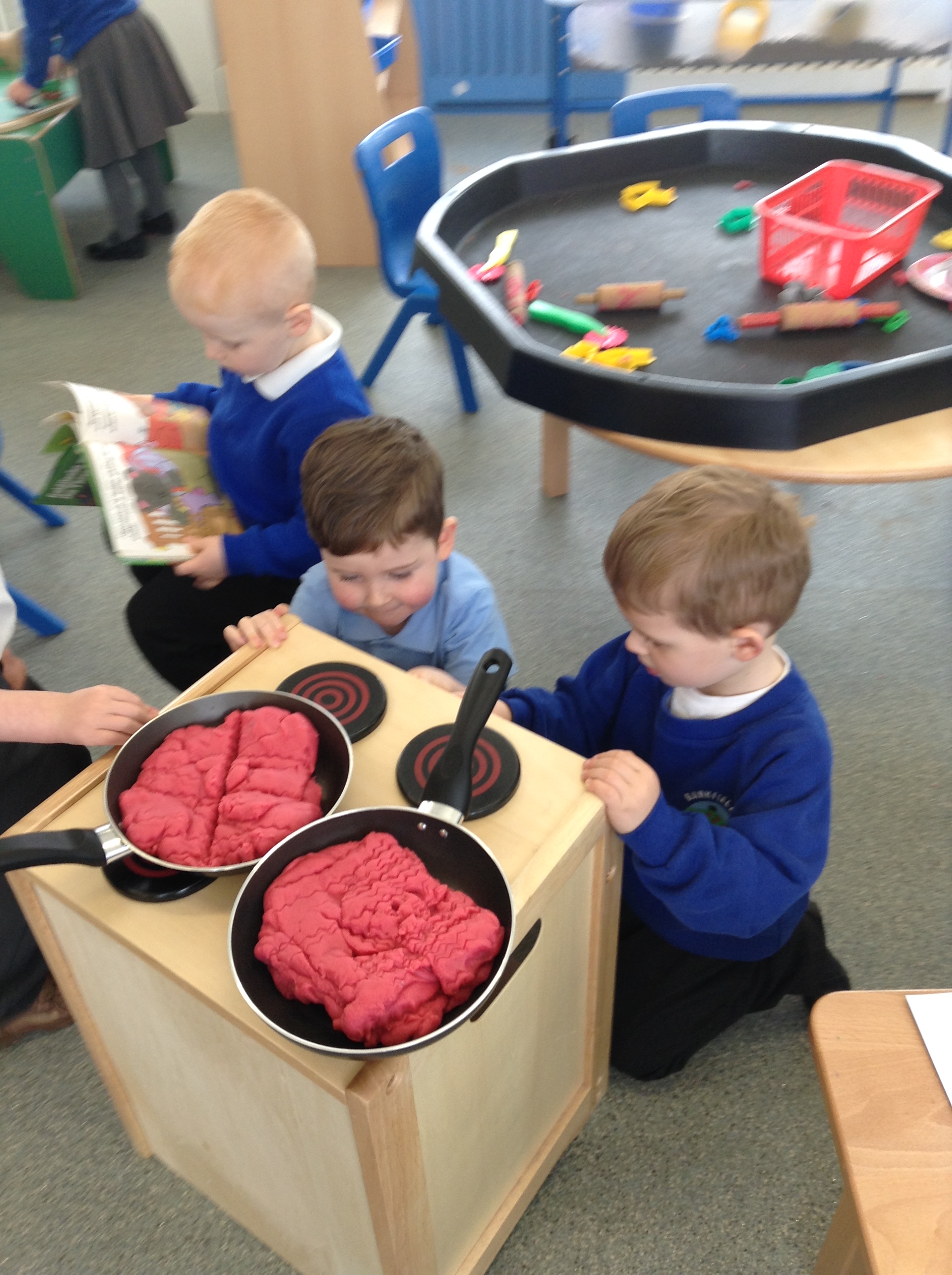 We tried hard to flip pancakes in the pan. We worked with a friend to record how many times we flipped the pancake and made tally marks to record!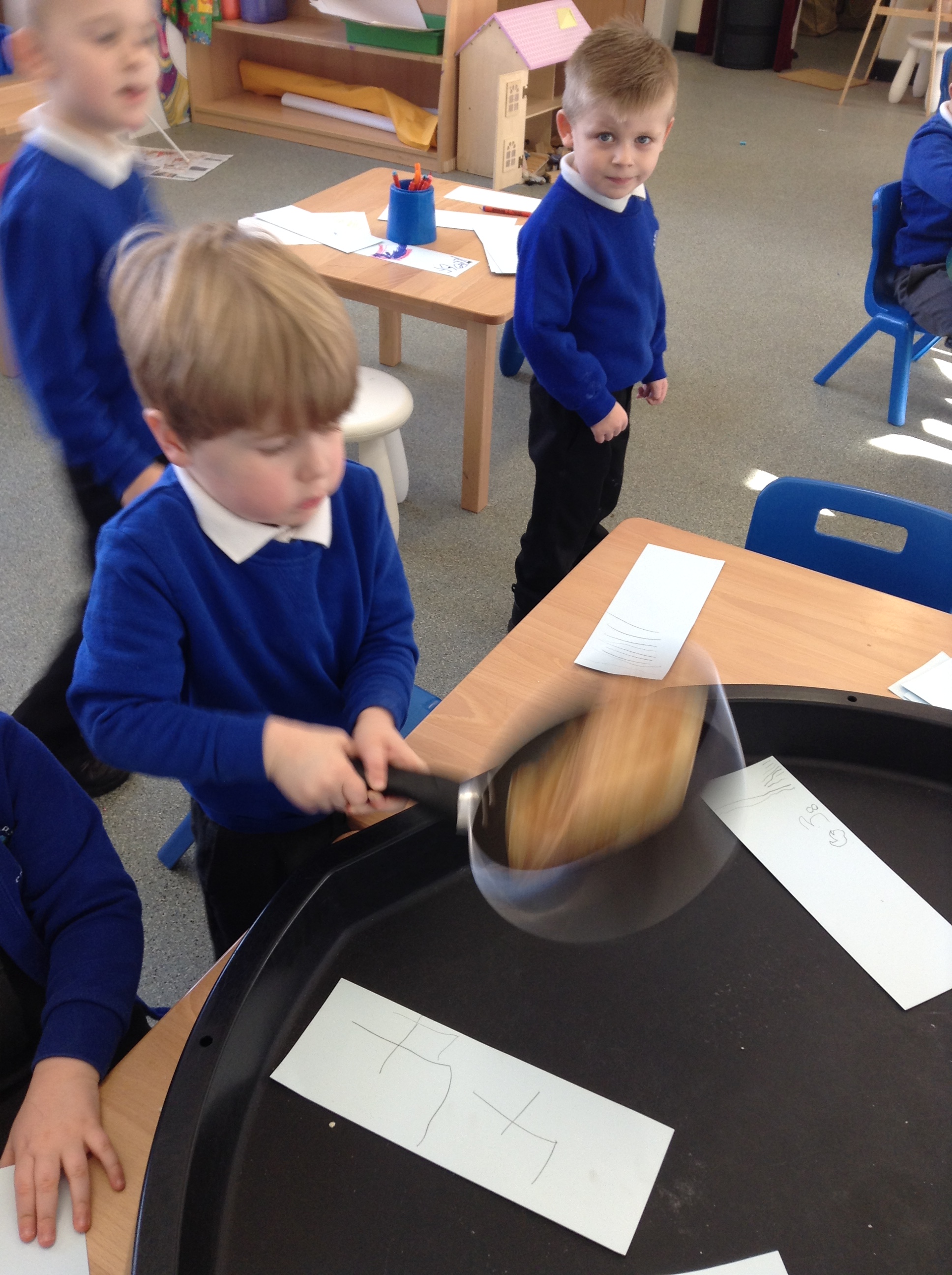 Spring 1
Valentine's Day
We thought about the people that we care about by reading the story ' Guess how much I love you', decorating biscuits and having a photo taken with a friend in our photo booth. We enjoyed making the photo booth together and the children enjoyed taking photos of each other using the iPads in the booth!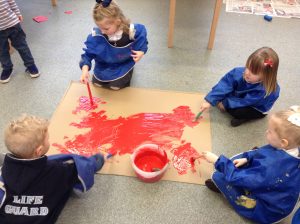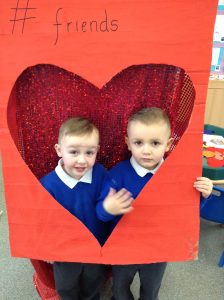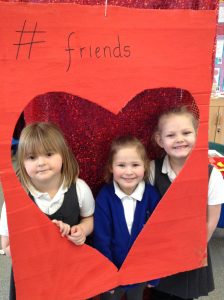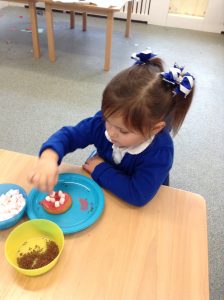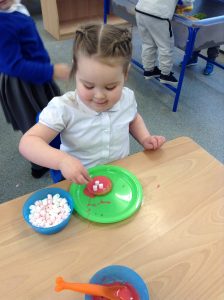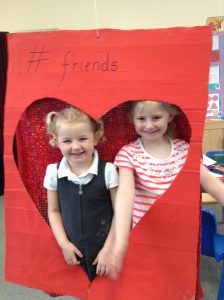 Exploring shapes and creating pictures – February 2017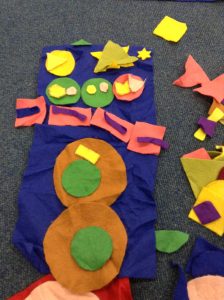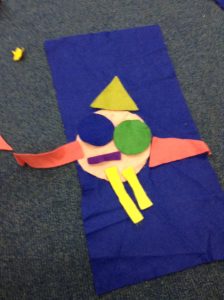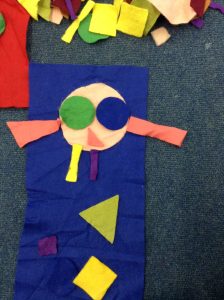 (From left to right) Michael enjoyed creating 'Buzz Lightyear', Frankie made "A person robot" and Leah made her Mam. We love the way you have used the felt shapes to create different pictures!
Chinese New Year – The Year of the Rooster
We enjoyed celebrating Chinese New Year by making lucky money envelopes, trying some Chinese food and making paper lanterns. We learnt about the story of Chinese New Year, and discussed together whether we thought the rat should have won the race. We found out about Ian and how he celebrates Chinese New Year with his family. We even learnt how to say Happy New Year in Chinese!
Kung hei fat choi!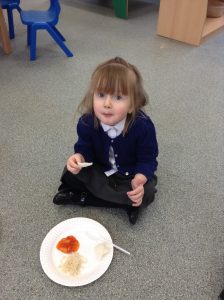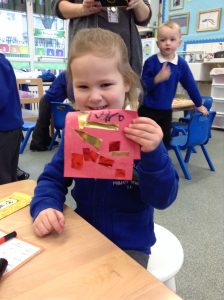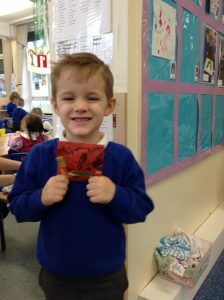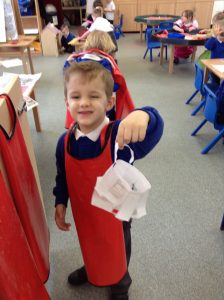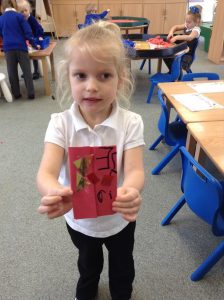 Get Moving, Get Active
This half term we have had Mr Dunford (A Sports Partnership PE coach) coming in to lead a session . We have been learning new games and have been given challenges to move our bodies in different ways. We have had lots of fun as well as developing our listening and concentration skills while we get active!
There is a ideas sheet of things you can try at home to support what we have been doing:
Get Moving, Get Active – Homework
Snow! 13th January 2017
We enjoyed exploring the snow today. We tracked our footprints, made marks and worked as a team to make a snowman!
Children in Need- 18th November 2016
We have been very busy raising money for Children in Need today! We all wore spotty clothing to school – don't we look brilliant?!
We also made spotty crispy cakes which we sold to make more money for Children in Need to help children whose lives can be a bit hard. Thank you for all your support both with donations and helping create wonderful outfits.
Remembrance Day 2016
We talked together about the brave soldiers and we wear poppies to remember them. We printed our own poppies and put them together to make our own wreath.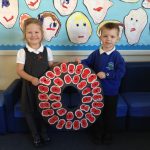 We watched the animation made for CBeebies for Remembrance Day at 11.00. We sat quietly for two minutes whilst we watched this together. http://www.bbc.co.uk/programmes/b04p4zsl
Bonfire Night 2016
We enjoyed making edible sparklers with marshmallows and sprinkles! We had to watch and then follow the instructions to make these.
We also made fireworks using different construction materials and then drew our own fireworks using both coloured crayons and chalks on black paper. We even had sparkly black playdough with sequins!
Looking ahead to November 2016…
The children have been talking a lot about their pets at home so we have decided to make a pet shop in our Nursery. The children have started to draw some wonderful pictures of pets for our shop. If you have any photos of your pets at home please feel free to send them in – we would love to display them in our pet shop! Thank you.
October 2016
We had an exciting visit to school on Friday 21st October. Whilst the older children were in a fire safety assembly, we got to see the fire engine and meet two of the fire officers. They showed us around the engine and we listened to the sirens and watched the lights flashing. They then talked to us about how we can keep safe on Bonfire Night and how to enjoy sparklers safely. At the end, we got a special treat as we each got to use the fire hose!
We have explored autumn in Nursery by going on an autumn walk around school to observe the changes in the leaves, counted conkers and made wonderful conker paintings with autumn coloured paint.
We joined the rest of school to collect for our harvest appeal, this year for Redcar Area Foodbank. Thank you for all your very kind donations, they were really appreciated.
We also really enjoyed reading the story of 'The Enormous Turnip' together. We then put in a tray and the children enjoyed retelling the story on their own or in groups remembering a lot of the words and using the figures to act out the story.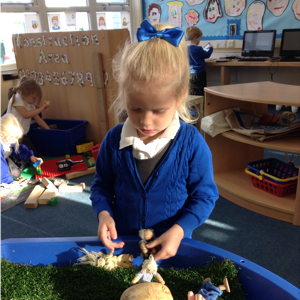 September 2016
We have been learning all about ourselves and the people we care about. Here are a small selection of photos from our first few weeks:
We had a great time at our family session and we had a really good turnout of adults working with the children.
We have just begun our Autumn topic exploring the season changing around us. We enjoyed joining the rest of school in our harvest service led by Naomi from The Salvation Army. Thank you for all the donations to the food bank for our harvest appeal.